WEST PALM BEACH, FLA. (TheBlaze) — The Republican Party is on the cusp of a revolution, and the possibility of violence cannot be ruled out, according to former Illinois Rep. Joe Walsh.
"I think that we've begun a third American revolution," Walsh told TheBlaze in an exclusive interview over the weekend. "I think people who recoil against both parties and believe in freedom are finally rising up. They're angry — I mean, look at [Republican frontrunner Donald] Trump — and they want to do something about it. I think we're at the beginning of this, and I think you're going to see it play out in the Republican Party because there could be a split in the Republican Party."
According to Walsh, the first step for "revolutionaries" — or, conservatives, Tea Partiers and grassroots activists — is to "clean out the Republican Party." If that does not work, he said, a new political party or movement could be on the horizon.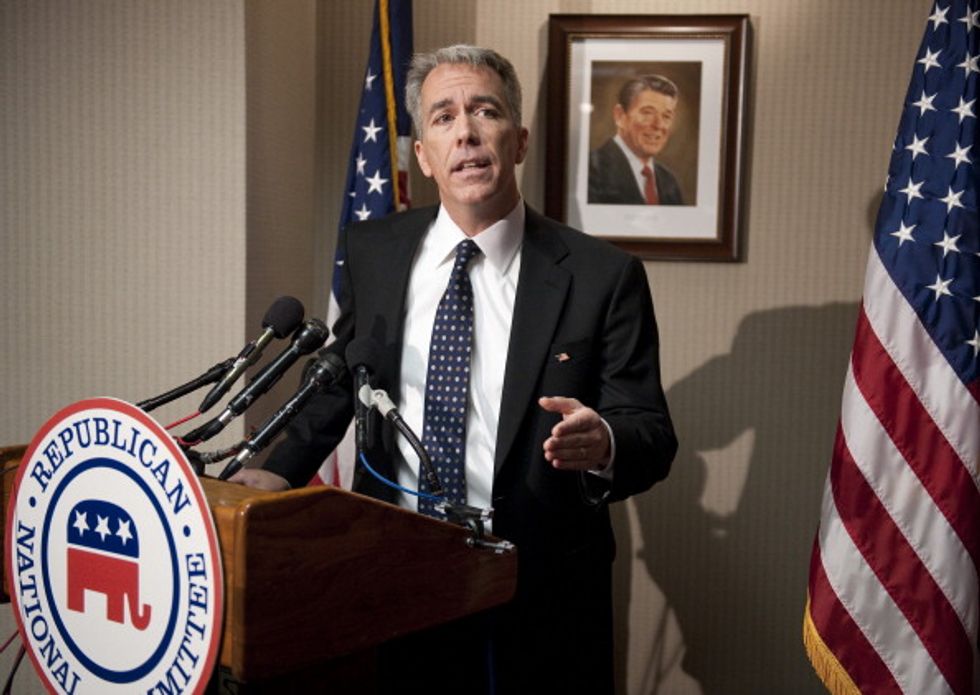 Rep. Joe Walsh, R-Ill., holds a news conference on his election to Congress at the Republican National Committee headquarters on Wednesday, Nov. 17, 2010. (Photo By Bill Clark/Roll Call)
"It's hard to say, 'don't' be afraid of it,' because we don't know what's going to happen," Walsh, 53, said. "Remember, revolution is a scary term. It implies violence; it implies open rebellion. People shouldn't be afraid because initially we're going to use the political system in this revolt to try to fight back."
"It's not going to get violent at first, but look, the two prior revolutions we had got violent — the American Revolution and the Civil War," the one-term congressman continued. "Our founders believed that it may take violence to take back our country every now and then."
Walsh, a conservative radio host, told TheBlaze that some 2016 presidential contenders have utilized similar rhetoric as his — including Trump who he said did it "accidentally" by tapping into Americans' anger — but none to the same extent as him. Kentucky Sen. Rand Paul, he said, was also tapping into this idea of a revolution, but the libertarian-leaning candidate is "fading away."
"So none of the Republican candidates will go there yet, because when I say revolution, I'm also talking about potentially overthrowing the Republican Party, and no Republican candidate wants to say that yet," he said.
While Democratic presidential candidate Vermont Sen. Bernie Sanders speaks to a revolution often while on the campaign trail, Walsh said he is talking about "a different type of revolution which makes no sense to me." Sanders is calling for a revolution against a system, Walsh said, as the former congressman is calling for a revolution against big government — albeit, "there is a marriage there," he said.
"There will be no revolution from the left because they're winning," Walsh told TheBlaze. "The revolution is coming from people on the right — just average, hardworking Americans who are pissed off because government's too big."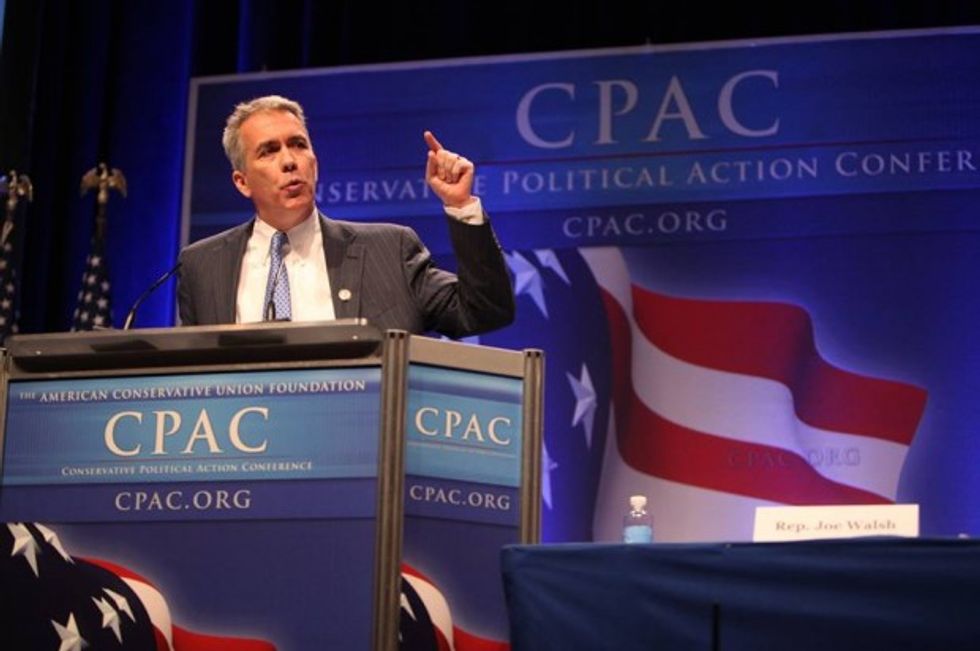 Image via Facebook/Joe Walsh

Walsh spread his message of revolution to more than 200 college students in attendance at a winter conference for Turning Point USA, a conservative student organization with the tagline, "Big Government Sucks." Walsh told the students sitting inside a conference room that they will be at the "front lines fighting this fight."
"You, God bless you, were brought into this world and brought into this country, I would argue, right now, at this point in time, right now at the dawn of the third American revolution to fight," Walsh told the students who had traveled to West Palm Beach, Florida from all around the country.
Caroline Craig, 21, told TheBlaze that it was apparent to her that Walsh "wants us to stand up for principles, not parties."
"He wants us to mold the conversations on campus and around the country after decades of liberals being able to manipulate every discussion," Craig, a student at East Carolina University said, adding that Walsh really honed in for her that "partisan nonsense will not resonate with anyone my age."
Just when it can't get any better, Joe Walsh gets up to speak. #WinterInWPB#TPUSA#biggovsucks

— Payden Hall (@paydenhall) December 19, 2015
Am I the only one feeling that everything Joe Walsh is saying has been on their minds forever? Love this. #WinterInWPB#TPUSA

— Marissa Dorsett (@mardorlawyer21) December 19, 2015
December 19, 2015
"I agree with what he said — the tension between the two parties right now is intense, especially on the college campuses," 21-year-old Lauren Houck, a student at Eastern Michigan University, told TheBlaze. "What he said really hit home because of how much the 2016 election determines my future."
"And I always love hearing from Joe Walsh," she added.
Earlier this month, Walsh's video message to Attorney General Loretta Lynch went viral when he implored her to arrest him after she announced that her office would take a more aggressive approach to those who incited or conducted anti-Muslim rhetoric.  
"I think Islam has a real freaking problem, alright?" Walsh said in the video. "There is a cancer in Islam, and if they're not going to learn to assimilate, I don't want them in this country."