"Oh geez, looks like I went through time and space again."
And with that, Tina Fey's Sarah Palin was back on "Saturday Night Live."
As Kate McKinnon's Hillary Clinton dreams of the White House, she got a visit in the night from Amy Poehler's 2008 Clinton and the former vice presidential nominee, who at first thought that she's "landed in the bedroom of a lesbian couple."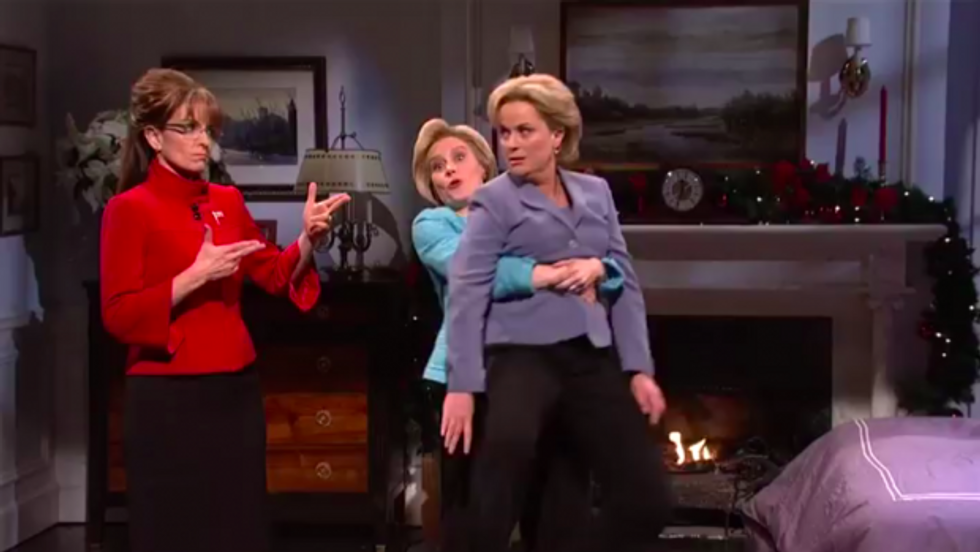 Image source: NBC
Fey's Palin, complete with that impeccable accent, wanted to talk about the fun times they all had running for office in 2008, assuming that "that cute little John McCain fellow" has died. But Poehler's character and Fey's character have come together, in Clinton's dream, to give the Democratic presidential frontrunner some campaign advice.
"Oh gee, I should be the one giving you advice because in 2008 I got a heck of a lot closer to the White House than this gal did," the Palin character said. "So here's my advice: you gotta do what you believe in your spirit, but also America, but not teachers and their fat liberal books, but also and even why worry about fast food wages with their status quo — which is another Latin word, status quo — meanwhile Americans are being taken for a ride and also the man can only ride you when your back is bent, so."
Before leaving to let Clinton get back to sleep, Poehler's character said she needs to "get back to 2008 and send a bunch of emails," prompting McKinnon to spring into action and break her Blackberry.
Watch the "SNL" sketch, complete with a bipartisan dance party, below.