Republican presidential candidate Sen. Marco Rubio (Fla.) said Monday that President Barack Obama and Democratic presidential front-runner Hillary Clinton are "completely out of touch" when it comes to fighting the Islamic State and terrorism.
Responding to comments that Clinton made during Saturday's Democratic debate when she said that the United States is "finally where we need to be" in regards to terrorism, Rubio said that she, and the Democratic Party, couldn't be more wrong.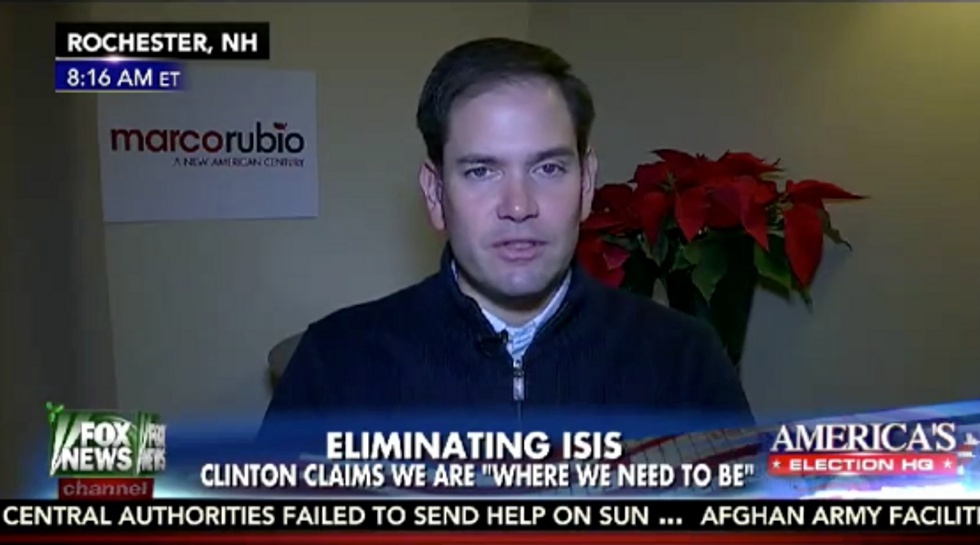 Image via Twitter/@foxandfriends
"It's one more example of government, Washington, in particular the Democratic Party, is completely out of touch with reality and out of touch with the American people," Rubio said Monday morning during an interview on "Fox and Friends."
"The vast majority of Americans understand that this threat is not under control," the senator continued. "In fact, it continues to grow in both scope and sophistication, and she's talking about how 'we have a plan.' How is that plan any different than what we had in place a month ago, or two months ago, when the president was claiming that [the Islamic State] was contained? And then a few days later they attack Paris and a few weeks later, they attack San Bernardino."
"It's just another example of how out of touch they are and how clueless they are and, quite frankly, how dangerous their foreign policy has become for the national security of this country," he added.
Later in the interview, Rubio added that President Obama's foreign policy makes Americans feel less safe and more scared.
"When [Americans] see a president so out of touch, it makes them more scared not less scared," he said, noting that he believes Obama should be frank with the American people and tell them that the threat posed by Islamic terrorists is "significant."
"It's just another example of how...clueless they are." @marcorubio on Clinton & Obama's ISIS remarks https://t.co/owD0x9fKkj

— FOX & Friends (@foxandfriends) December 21, 2015
—
Follow the author of this story on Twitter and Facebook:
[facebook //www.facebook.com/plugins/like.php?href=