Recording artist Robert Sylvester Kelly, best known simply as "R. Kelly," ended an interview Monday after facing questions about sexual abuse allegations that have plagued the singer for years.
Kelly was in New York to promote his new album when he sat down for an interview with HuffPost Live. The singer quickly grew angry by host Caroline Modarressy-Tehrani's line of questioning.
— Scroll down for video —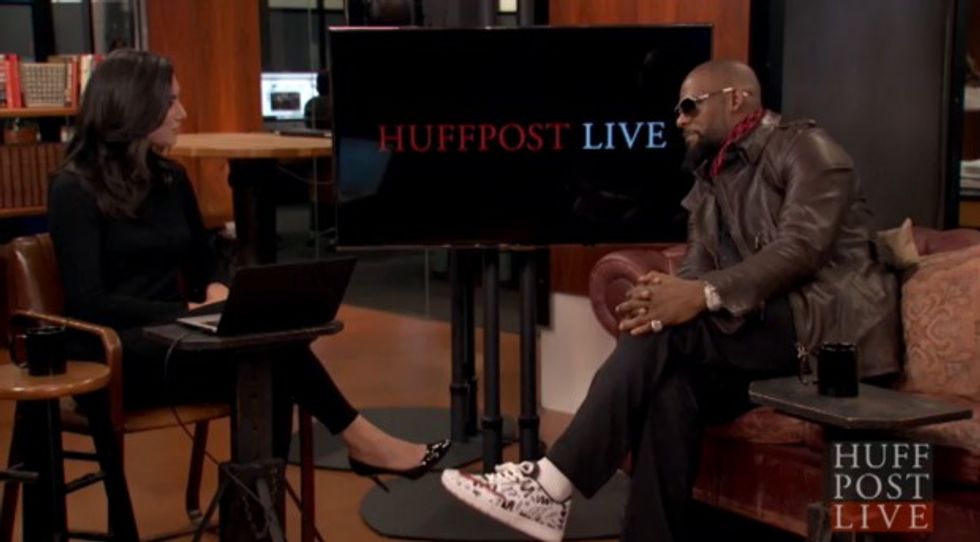 Image source: HuffPo Live
"It's absolutely your prerogative, if you ever want to leave, you can certainly leave," Modarressy-Tehrani told Kelly.
"The next question, if it's something negative out of your mouth, with all do respect, that's exactly what I'm going to do," he shot back.
[sharequote align="right"]"I did not come here to get interrogated. I did not come here for a deposition."[/sharequote]
"Okay, a couple of things. One: there is going to be no negativity. I am just asking you questions, sir," Modarressy-Tehrani replied.
"Well, I know the difference between a negative question and a positive. So if I think it's negative, I'm going to walk," Kelly warned.
That didn't scare Modarressy-Tehrani from pursuing her line of questioning.
"Would you say you have a healthy relationship with sex. Sex is mentioned frequently in your lyrics, in many of your songs you talk about having sex with women, multiple women — would you say you have a healthy relationship with sex and that is reflected musically?" she asked.
"I would have to say this. I did not come here to get interrogated. I did not come here for a deposition. Do you know what a deposition is?" Kelly asked.
"I'm very well of what a deposition is," Modarressy-Tehrani quipped back. "I'm asking about your music! I asked about your music."
Kelly said that the interview felt like a deposition and was not about his music. He accused the host of disrespecting him.
"Mr. Kelly, I do not believe I am disrespecting you," Modarressy-Tehrani said.
"Well, that speaks to your intelligence, not mine," Kelly said.
Things then got bizarre.
"Do you drink?" Kelly asked Modarressy-Tehrani.
"Yeah," she replied.
"Do you get drunk?" Kelly continued.
"Yeah," Modarressy-Tehrani answered.
"Fall all over and not know where you at?" Kelly pressed further.
"I don't understand the line of questioning, but no," the host said.
"Exactly," Kelly replied. "But it ain't positive is it. It has nothing to do with your job does it?"
Modarressy-Tehrani noted that her questions related specifically to Kelly's work, where as his questions to her did not. Eventually, Kelly gave the host a chance to ask one more question. When he didn't like it, he left the set.
"This interview is over," he said as he left.
—
Follow the author of this story on Twitter and Facebook: