Video has emerged that allegedly shows Yazidi women screaming in terror as they are physically dragged away from their families by a group of armed Islamic State fighters.
The video, which TheBlaze is unable to independently authenticate, was first posted on Facebook and LiveLeak and was reported by Britain's Daily Mail.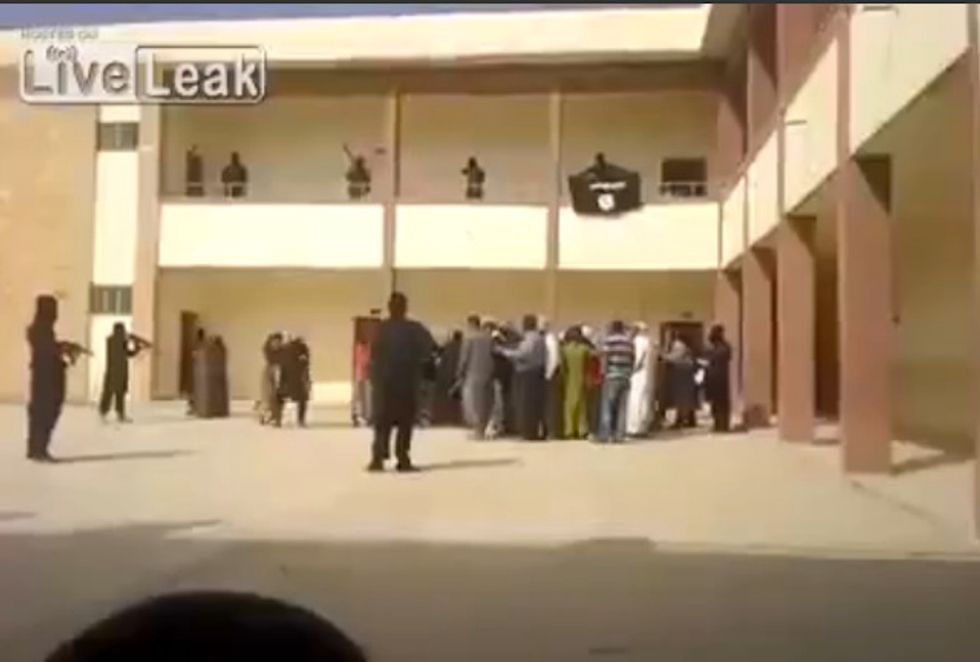 The Daily Mail reported that these Yazidi women were forcibly separated from their families. (Image source: Live Leak)
In the video, apparent Islamist militants armed with automatic weapons and clothed fully in black with masks over their heads surround the group of civilian captives.
On the second floor above the courtyard stand more gunmen with one unfurling a black Islamic State flag. One of the men observing from above appeared to be armed with a shoulder-fired rocket launcher.
The fighters are prompted to repeat the call "Allahu akbar," or "Allah is the greatest," before the family separation operation gets underway.
As the women are ripped away from their families, their cries of anguish are audible and excruciating.
(Content warning: disturbing scene)
The Daily Mail reported that the video was first posted online by Yazidi activists.
Yazidi women who have been freed or escaped their jihadist captors have told heart-wrenching stories about the time they spent as sex slaves for fighters with the group that aims to establish a global caliphate based on Islamic law.
One 21-year-old survivor of the horrific ordeal told the U.N. Security Council how she was gang raped by Islamic State fighters.
Nadia Murad Basee Taha, a Yazidi woman who was held as a sex slave for three months, told the U.N. that the jihadists took her from her Iraqi village to Mosul. She said that even on the journey "they touched us and violated us."
"The man who took me asked me to change religion. I refused. Then, he asked for my hand in marriage, so to speak," Taha recounted, according to Britain's Telegraph.
"That night he beat me. He asked me to take my clothes off. He put me in a room with the guards and then they proceeded to commit their crime until I fainted," she said.
(H/T: Daily Mail)