Republican presidential candidate Rick Santorum clashed with the hosts of MSNBC's "Morning Joe" on Monday after he claimed Muslims should be aggressively working to reform Islam and cure the "cancer" within the religion.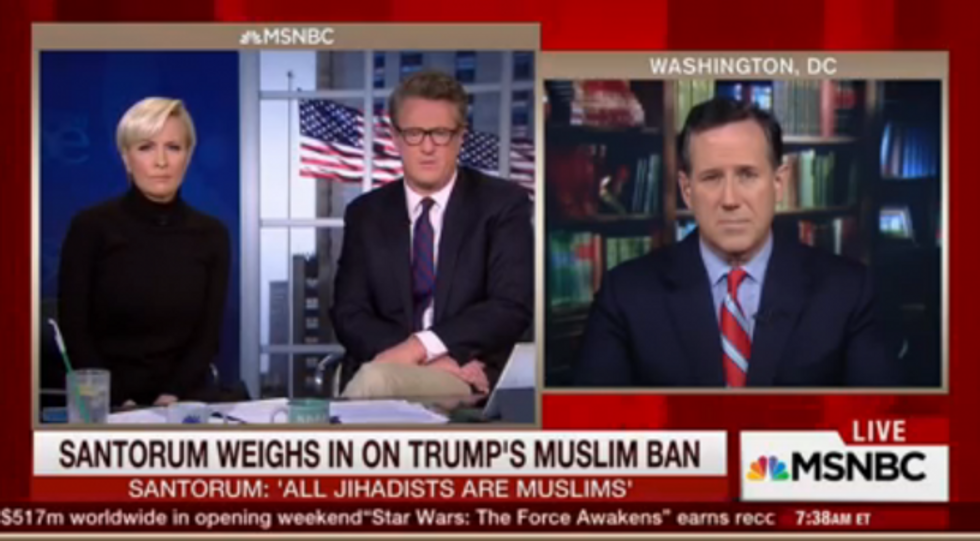 MSNBC
Things got particularly tense after host Joe Scarborough asked Santorum what Americans can do to reach out to American Muslims and let them know that "they are every bit as part of the American dream as you or me."
"I would ask that in reverse: what are they gonna do to reach out to make sure they are confronting—" Santorum began before being interrupted with objections from the show's hosts.
Santorum cited Muslim reformer Dr. Zuhdi Jasser as an example of a Muslim who is currently trying to bring Islam out of the "seventh century."
Co-host Mika Brzezinski then angrily asked, "I'll turn the argument around on you — Why aren't you working on white men with guns?"
"I mean come on Rick Santorum, you know better, you're a smart guy," she added.
Listen to Santorum's rebuttal and watch the rest of the segment below via MSNBC:
---