The bright light that streaked across the Southwest was likely the body of a Russian rocket reentering the atmosphere, a spokesperson for the U.S. Strategic Command told TheBlaze early Wednesday morning.
"U.S. Strategic Command's Joint Functional Component Command for Space (JFCC Space), through the Joint Space Operations Center (JSpOC), removed a Russian SL-4 rocket body from the U.S. satellite catalog as a decayed object after it reentered the atmosphere today over North America (vicinity Arizona) at approximately 1908 MST," said Lieutenant Colonel Martin L. O'Donnell, chief public affairs officer for the U.S. Strategic command.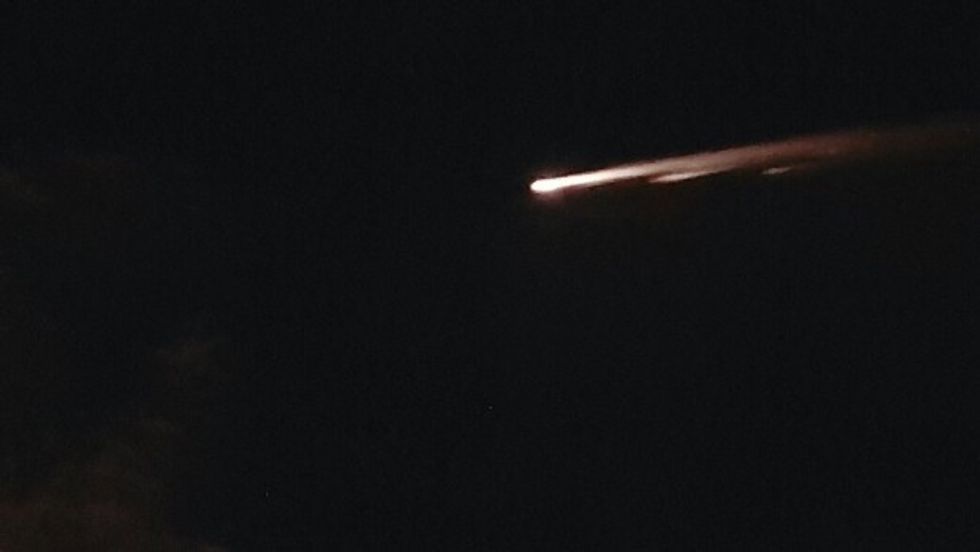 Image source: Twitter user @a_mceldowney
O'Donnell added, "The effects of the atmosphere on reentering objects preclude the JSpOC from accurately tracking any reentries after initial contact with the atmosphere occurs. Additional questions about the rocket body should be directed to Russian authorities, particularly Roscosmos (Russian Federal Space Agency)."
The bright light was seen across southern California and Nevada Tuesday evening, leaving many skywatchers perplexed as to what it was.
Weird flaming streak of debris in the sky south of Las Vegas just after 6PM. Anyone else see it? https://t.co/ax13zm2jAx

— Brand Hunt (@Brand Hunt)1450837219.0
Many posted images were posted to social media, with speculation on what the object could be ranging from a meteor to extraterrestrial life.
In November, a Navy Trident II missile test off the coast of California raised similar speculation before the military alerted the public it had conducted an exercise.
—
Follow the author of this story on Twitter and Facebook: