It's rare that we hear about singers and rappers going to church or helping the homeless.
In an industry known for its promotion of lavish spending and self-aggrandizement, a character like Chancellor Bennett, better known as Chance the Rapper, stands out.
The Chicago-based rap artist has partnered with The Empowerment Plan, a Detroit-based nonprofit that employs homeless parents from local shelters with jobs in manufacturing with the goal of helping them "earn a stable income, find secure housing, and gain back their independence for themselves and for their families."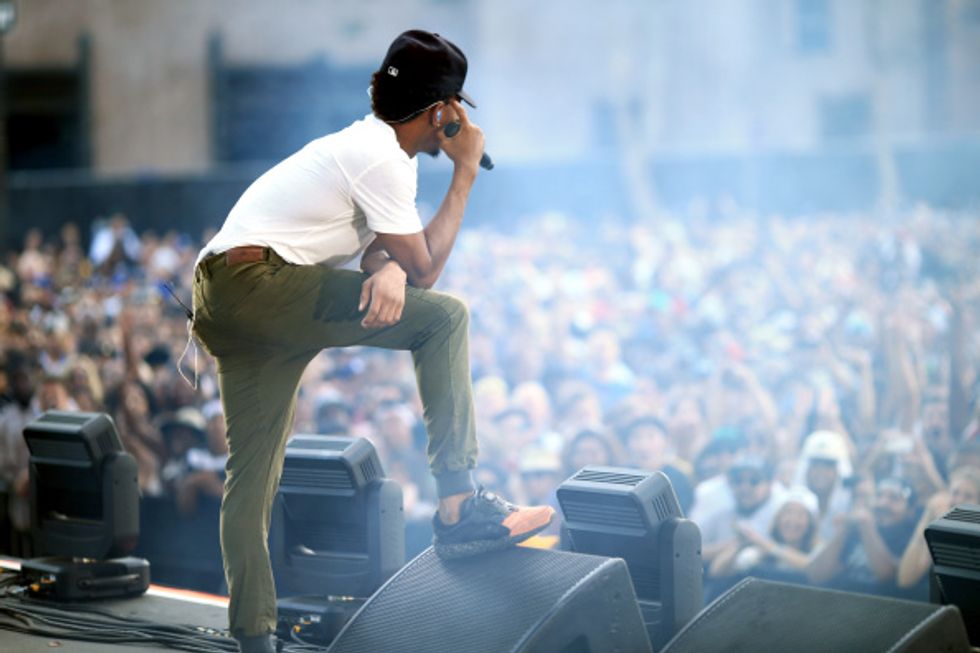 Chance the Rapper performs on the Stage during day 2 of the 2014 Budweiser Made in America Festival at Los Angeles Grand Park on August 31, 2014 in Los Angeles, California.
This holiday season, Chance and The Empowerment Plan joined forces to create Warmest Winter 2016, a project whose end goal is to supply 1,000 of Chicago's homeless with coats.
And these aren't just any old coats.
The project's site describes the high-tech EMPWR coat as "a water-resistant and self-heating jacket, which can transform into a sleeping bag, or be worn as an over-the-shoulder bag when not in use."
"Each year approximately 7 percent of homeless individuals die from hypothermia. Our coat reduces this statistic by over 20 percent," the site's description reads. "Our studies show that for each 1,000 coats distributed, we can save 14 lives."
But these coats aren't cheap. To meet its set goal of 1,000 coats, Warmest Winter 2016 will have to raise $100,000.
The Empowerment Plan relies on materials supplied by "generous donors" like the outerwear company Carhartt and individuals who donate online.
Chance the Rapper has recently taken to social media outlets like Instagram and Twitter to promote his cause and share its triumphs:
Almost $40000 in 4 days. Come put in your work https://t.co/pgLTSXr7kR

— Chance The Rapper (@chancetherapper) December 20, 2015
Even if you can't donate right now, you can do your part by tweeting: HELP #WarmestWinter HELP https://t.co/43Is78SKRM

— Chance The Rapper (@chancetherapper) December 20, 2015
There are people in my city that need an EMPWR Coat this winter. Help Us #WarmestWinter https://t.co/43Is78SKRM

— Chance The Rapper (@chancetherapper) December 21, 2015
Chance also created some stellar incentives for fans to donate:
Earlier in December, Chance appeared on SNL with his group The Social Experiment, becoming the first independent artist to ever perform on the show.
The rapper performed his two hits "Somewhere in Paradise" featuring singer Jeremih and "Sunday Candy" with a Gospel choir in the background.
Chance the Rapper belongs to a hip-hop sub-genre called "conscious rap," along with other artists like Nas, Lupe Fiasco and Childish Gambino. The descriptor "conscious" refers to individuals who rap about subjects like politics, world events, cultural epidemics and faith.
The ultimate goal of Chance's partnership with The Empowerment Plan is to establish a second Empowerment Plan factory in his native Chicago.
--
Follow Carly Hoilman (@carlyhoilman) on Twitter