Rep. Trey Gowdy (R-South Carolina) will endorse Sen. Marco Rubio for president on Tuesday, Bloomberg Politics said.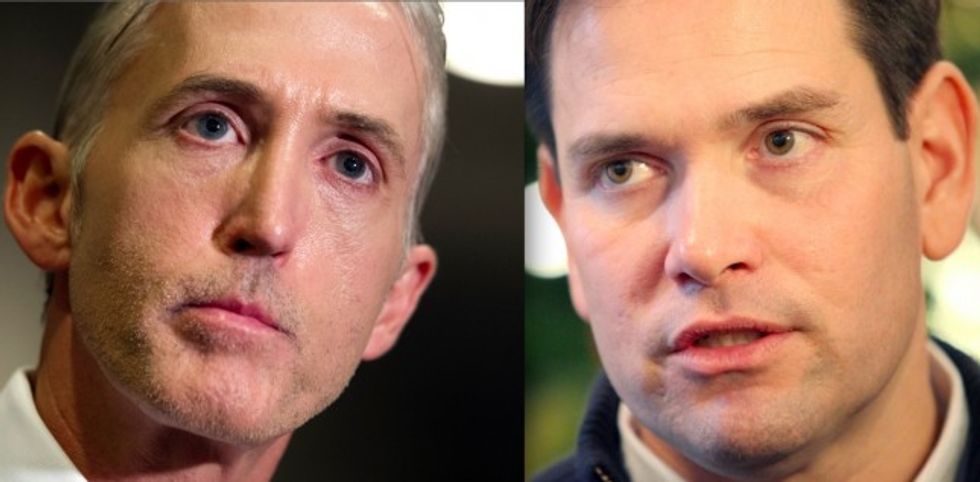 Rep. Trey Gowdy, R-S.C. (left) and Sen. Marco Rubio, R-Fla. (right). (AP Photos/Cliff Owen [left]/Mary Schwalm [right])
The news was first reported by TownHall on Saturday. An aide who requested anonymity told Bloomberg Politics the endorsement will occur in Iowa when Gowdy heads out on a bus tour with Rubio.
TheBlaze reported earlier this week that a Gowdy endorsement of Rubio was a strong possibility.
"Marco is a rock solid conservative and a strong leader we can trust. I look forward to campaigning in Iowa with him, and introducing my good friend to voters across the state," Gowdy said in a statement released by Rubio's campaign Saturday, CNN reported.
The Rubio campaign makes it official: pic.twitter.com/r7hquY23T1

— Guy Benson (@guypbenson) December 26, 2015
CNN added that a Rubio campaign aide said Gowdy will offer Rubio his "full support" but didn't say it will be an official presidential endorsement.
Gowdy — known widely for his work as chairman of the House Benghazi Committee and his questioning of Democratic presidential frontrunner Hillary Clinton and her handling of the 2011 attacks when she was secretary of state — is noteworthy because his home state will host the first primary election in the south, Bloomberg Politics said.