CHICAGO (TheBlaze/AP) — A Chicago police officer shot and killed two people early Saturday while responding to a domestic disturbance call on the city's West Side, police said.
The Cook County medical examiner identified the man killed as 19-year-old Quintonio LeGreir and the woman as 55-year-old Bettie R. Jones. Both victims were black and from Chicago.
Police did not disclose the race of the officer or release the officer's current work status.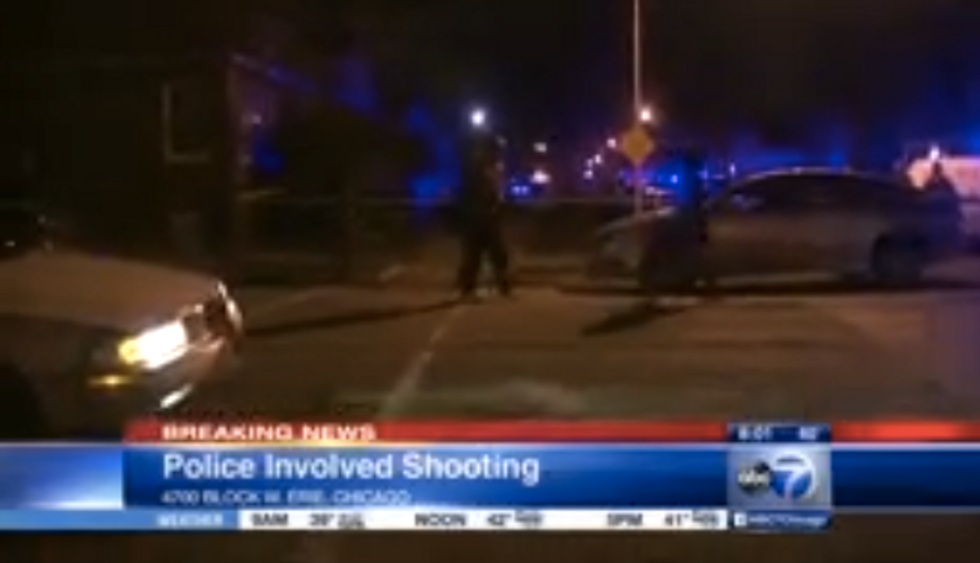 Image source: WLS-TV
Jones was pronounced dead at 4:51 a.m. at Loretto Hospital. LeGreir was pronounced dead at 5:14 a.m. at Stroger Hospital. Autopsies have not been scheduled, medical examiner's office spokeswoman Becky Schlikerman said.
The Chicago Police Department said in a statement that the shootings happened around 4:25 a.m. Saturday after officers who responded to the call "were confronted by a combative subject."
According to WLS-TV, LeGreir's father originally called 911 as his 19-year-old son was holding a metal baseball bat and acting erratically.
"He was having a mental situation. Sometimes he will get loud, but not violent," he said.
"He's gone, he's gone. Seven times he was shot," Janet Cooksey told the Chicago Tribune. "He didn't have a gun. He had a bat. One or two times would have brought him down.
According to the Chicago Tribune, LeGreir was studying engineering in at Northern Illinois University.
"I was praying with him because he wasn't acting like himself," LeGrier's great-aunt, Betty Turner, told the Chicago Tribune.
Jones, another tenant who lived on the first floor of the building, was the mother of five, according to the Tribune.
Jones' daughter, Latisha, said she awoke to gunshots and found her mother on the floor with a wound in her neck.
"She wasn't saying anything," she told the Tribune. "I had to keep checking for a pulse."
It's unclear how or why Jones was shot, but the Tribune reported that Latisha ran out into the street crying and swearing, shouting, "police shot my mama," at some point after the altercation.
Police said the shooting is under investigation and the case has been referred to the city's main police oversight agency.
Independent Police Review Authority spokesman Larry Merritt confirmed Saturday that the agency was investigating an officer-involved shooting but had no further information.
The Chicago Police Department is the subject of a federal civil rights investigation, which came after the release of a video showing a white officer shooting a black teenager 16 times in 2014.
This story has been updated.