A hoverboard, one of this year's hottest gifts, literally caught on fire in a New Jersey home over the weekend, burning the family's carpet and renewing calls for safety precautions from fire officials.
The hoverboard burst into flames while it was charging, Lanoka Harbor Fire Department officials said. The family was home when the fire started, but no one was hurt, according to WPIX-TV.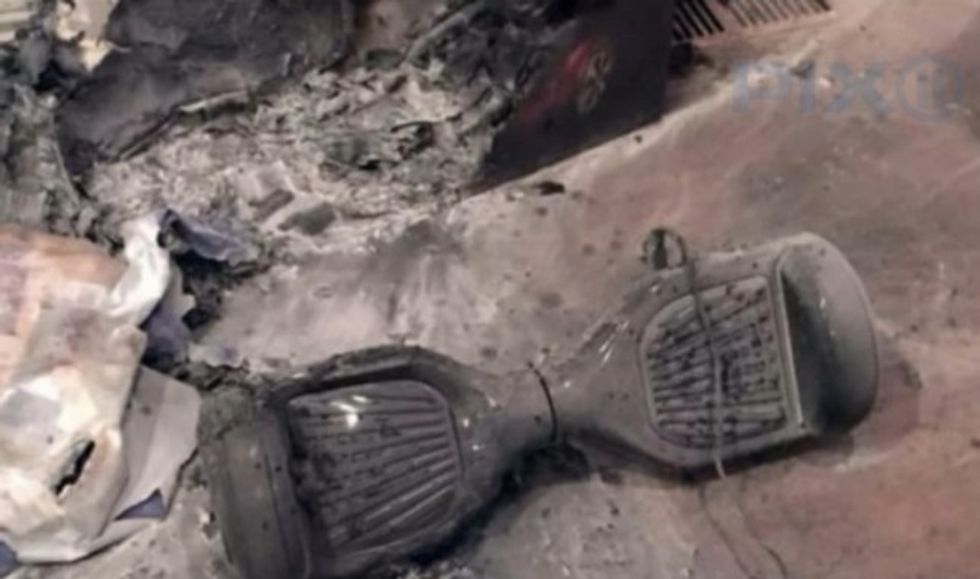 Image source: WPIX-TV
It was the latest in a string of incidents in which hoverboards — the two-wheeled devices that accelerate when riders lean forward — have caught fire.
Earlier this month, a Swagway hoverboard torched a New York living room while it was plugged in and charging, but someone was home to extinguish the fire before it caused more damage.
However, a Louisiana homeowner said the hoverboard she bought her son burned down their home.
"It was like fireworks," Jessica Horne told WGNO-TV, adding that the flames were so intense that it was only a few minutes before the entire structure was on fire.
Officials have not yet revealed the hoverboard brand from the latest incident in New Jersey but are investigating the fire.
In the meantime, the Lanoka Fire Deparment has issued a warning encouraging people to never leave charging devices unattended, always check for warrantees and be on the lookout for manufacturer recalls.
Due to the large number of fires reported — usually while charging — Amazon has taken several brands of the gadget from their inventory while they are being reviewed for safety. Additionally, New York City has totally banned the devices.