California motorists got quite the surprise on Friday night — but it had nothing to do with Christmas.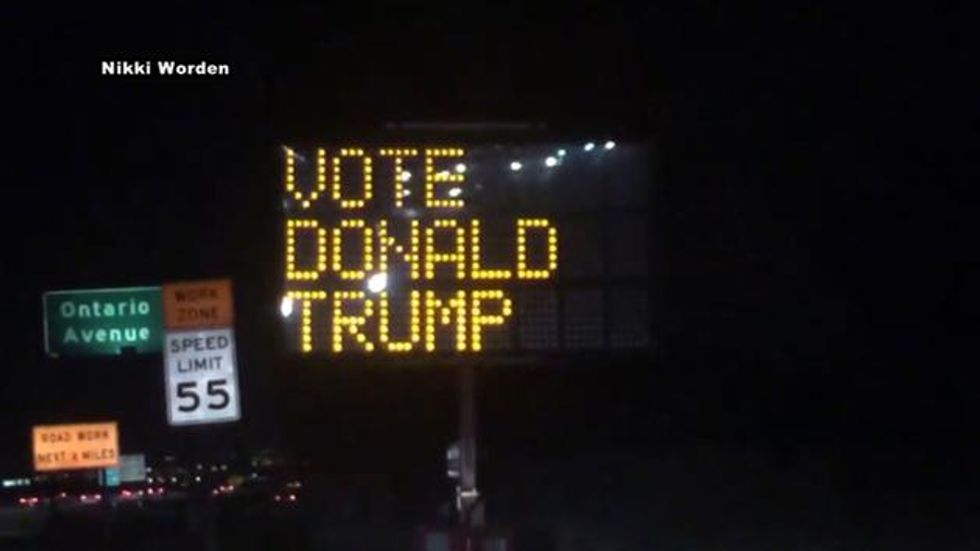 Image source: KABC-TV
Nikki Worden and her husband Dann Worden were traveling northbound along Interstate Highway 15, about 50 miles east of Los Angeles, when they saw a California Department of Transportation electronic warning sign that had apparently been hacked to display a political message.
"Inland Empire supports Donald Trump. Merry Xmas. Vote Donald Trump," the sign read.
Nikki Worden said they were so surprised by what they saw that they took the next exit and went back just to capture it on video. She then posted the video on Facebook, where it has been viewed more than 400,000 times.
The sign was back to displaying its original message by Sunday, according to KABC-TV.
It was not clear who was responsible for the apparent hack.
The California Department of Transportation did not immediately respond to a request for comment from TheBlaze on Monday.
Driving N/B 15 fwy in Corona look what we saw had to turn around and record this !!!! :flag-ru::flag-us:

Posted by Nikki Miles Worden on Friday, December 25, 2015
(H/T: KABC-TV)
–
Follow Jon Street (@JonStreet) on Twitter