Three years after founding the Brazilian feminist group Femen Now, Sara Fernanda Giromin, better known by her alias, "Sara Winter," has declared war on feminism and abortion.
Giromin, who was formerly known for holding topless marches, largely attributes her radical shift to the birth of her second child, LifeSite News reported. Back in October, a month after her child was born, the former feminist shared about the regret she experienced after aborting her first child.
"I have repented of having had an abortion and today I ask for forgiveness," Giromin wrote, claiming that after the birth of her baby, "life has taken on a new meaning."
"Please, women who are desperate to abort, think carefully about it. I was very sorry I did it. I don't want the same for you," she added.
In the months following her post, Giromin has exhibited a growing disillusionment with the feminist movement. Giromin, who formerly identified as "bisexual," has also apologized to Christians for kissing another seminude girl in front of the Church of Our Lady of Candelária in Rio de Janeiro back in January 2014. The photo of the two women became iconic of homosexual contempt for Christianity in Brazil, LifeSite News reported.
In a YouTube video published earlier this month, Giromin, who founded Femen Now at age 19, apologized to Christians for her past transgressions.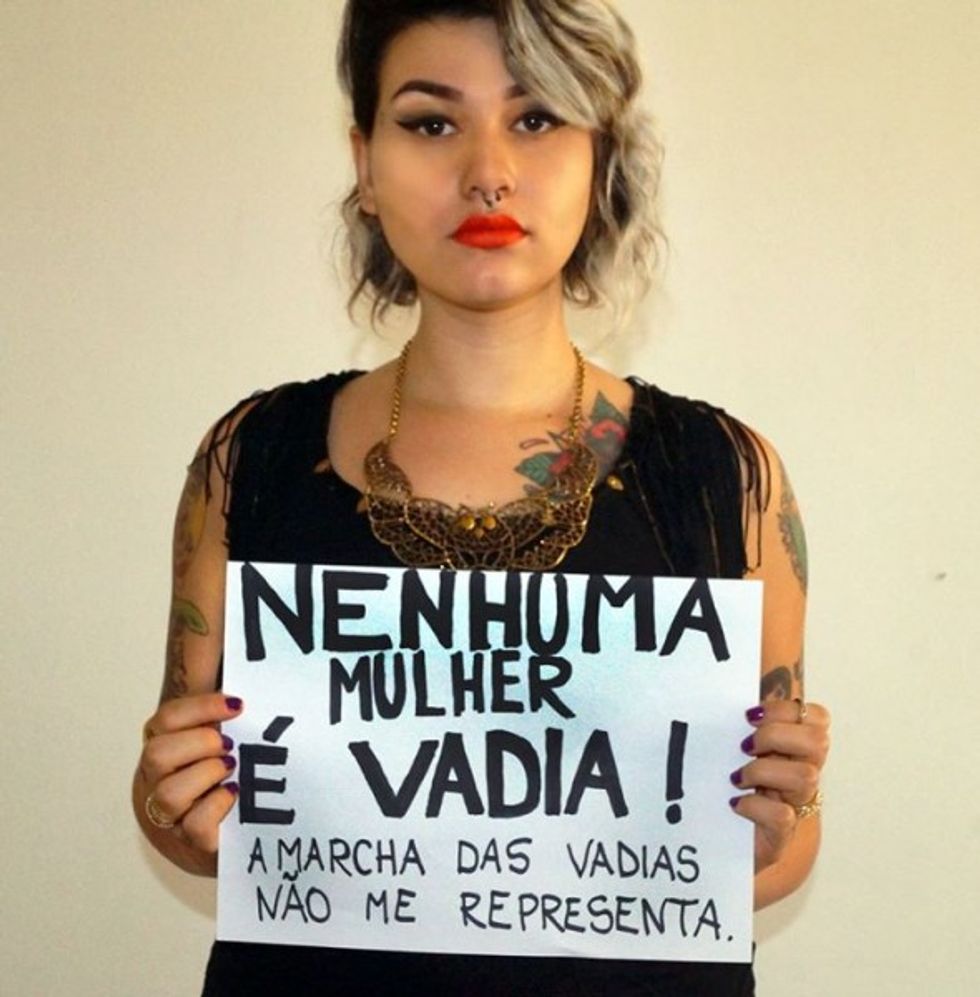 Sarah Fernanda Giromin. Image source: Instituto Liberal.
"We went way too far and ended up offending many religious and non-religious people," she added, labeling her actions "blasphemy." Giromin also indicated that she continues to progress in her own spiritual walk, though her current beliefs remain unsettled.
Giromin left Femen in 2013 in order to form a new feminist group, "Bastardxs," which retained much of Femen's goals and topless protests, but included men and women.
She now has denounced her affiliation with feminism entirely, rejecting the movement as a religious "sect" that objectifies women, promotes lesbianism and overlooks pedophilia in its midst.
"For the feminist sect women are not the inspiration; they are prime matter in the worst sense of the term. They are convenient objects useful for the purpose of inflaming hatred against the Christian religion, hatred against men, hatred against the beauty of women, hatred against the equilibrium of families. That's what feminism is, and I can guarantee it is like that because I was on the inside!"
Giromin recently published a short book that tells of the abuse she endured from fellow feminists. Her new book, "B*tch, no! Seven times I was betrayed by Feminism" (Vadia não! Sete vezes que fui traída pelo feminismo), details how Giromin was pushed to do drugs, have sex with strangers and even endure molestation by a lesbian, all because of feminists claiming the actions to be in the name of women's equality.
"I left that movement of which for four years I was one of the principal symbols in Brazil, and no one can say the contrary!" Giromin wrote. "The result? Today I'm much happier and I'm able to help women more."
(H/T: LifeSite News)
—