Good Samaritans helped rescue a young mother, a teenager and a baby from a freezing Wisconsin pond in what might be described as a Christmas miracle after their vehicle slid off the road and broke through the ice.
Nycole Stream, 19, was driving a truck last Wednesday when it veered off the road and slid down a steep embankment and into the pond, according to the Polk County Sheriff's Office. Good samaritans Terry and Pamela Blegen saw the horrific scene and immediately rushed to help.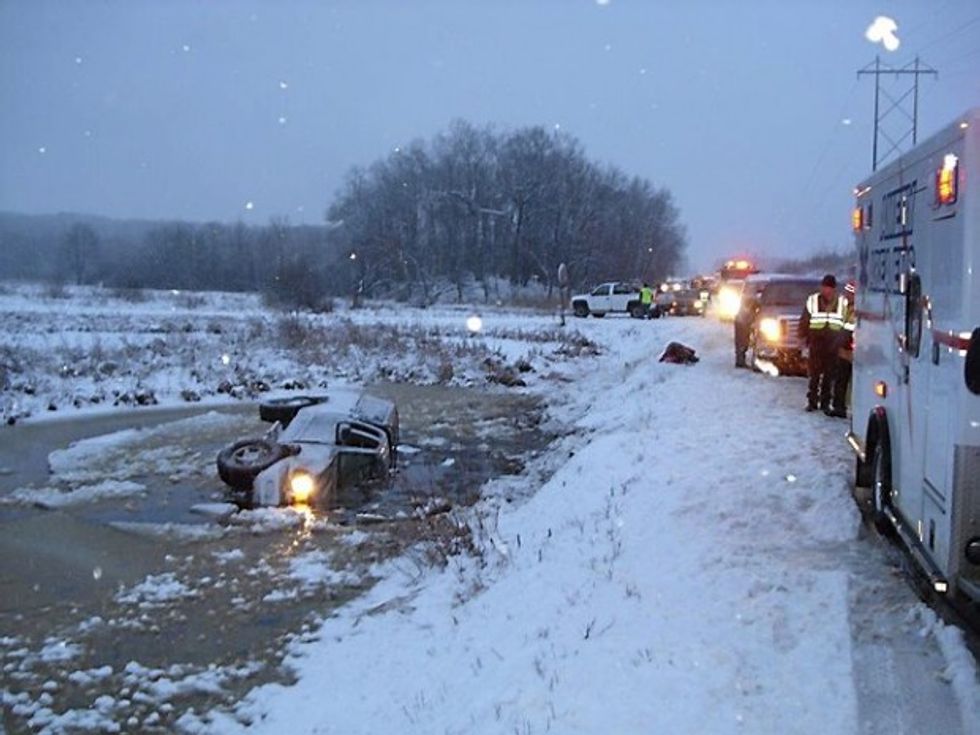 Good samaritans rescue young mother, teenager and infant from freezing Wisconsin pond Dec. 23. (Image source: Polk County Sheriff's Office)
While Pamela Blegen called 911, Terry Blegen jumped into the freezing water. As the situation intensified, two more passers-by — Thomas Cole and Shawn Spafford — jumped in to help. According to the sheriff's office, they rescued Stream and passenger Krystyna Walenczak, 16, as they both struggled to keep their heads above the icy water.
After securing Stream and Walenczak, the three men set their sights on 5-month-old Ayidden Stream who was still trapped in the vehicle — and underwater. The men got to the baby and carried him out.
Initially he was unresponsive. But the heroic rescuers revived him.
All three passengers were then taken to a local hospital for treatment, according to the Pioneer Press, and the infant was transferred to the Children's Hospital in St. Paul.
Polk County Sheriff Pete Johnson said Monday that the boy's mother reported that her son was OK and had come home from the hospital. Neither Stream nor Walenczak suffered serious injuries.
(H/T: Pioneer Press)