Republican presidential candidate Donald Trump is battling with the Virginia Republican Party, because this cycle the state party organization wants to limit its primary to Republicans.
This wouldn't be unusual for the many states that have closed primary contests, but Virginia has no party registration. Historically, Democratic affiliated voters or unaffiliated voters could vote in Republican primaries in the state — a rule they're more likely to take advantage of in a year when the Democratic nomination seems locked up.
Republican-leaning voters could also vote in the Democratic primaries. Virginia's presidential primary will be held on March 1, or Super Tuesday, along with 11 other states.
But last fall, Virginia Republicans decided to require voters in the GOP presidential primary to sight a "statement of affiliation," saying: "My signature below indicates that I am a Republican."
That requirement has gotten Trump's attention.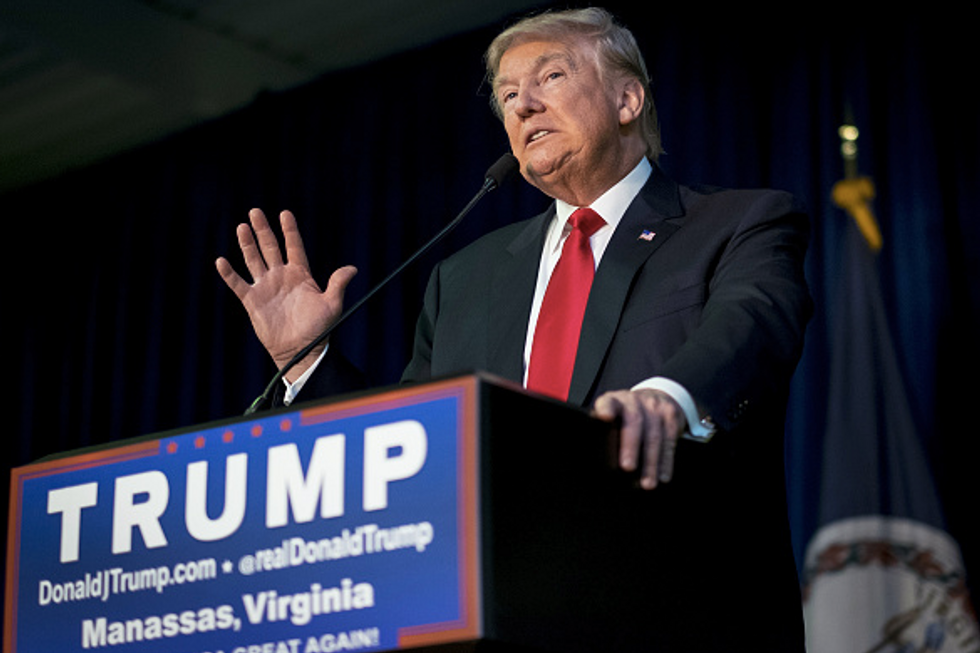 Donald Trump, president and chief executive of Trump Organization Inc. and 2016 Republican presidential candidate, speaks during a campaign event at the Prince William County fairgrounds in Manassas, Virginia,, on Wednesday, Dec. 2, 2015.  (Pete Maravich/Bloomberg via Getty Images)
The statement would not be that different from a Texas law requiring voters to certify that they understand: "I am ineligible to vote or participate in another political party's primary election or convention during this voting year." Also, in Hawaii, the Republican primary is open but voters are required to fill out a GOP registration on that day.
Trump, in one of his many tweets on the topic, said the Virginia GOP was making a "suicidal mistake." The real estate billionaire who's leading in most national Republican polls hopes to rely on his appeal to Democrats and independents in Republican primaries to win the nomination.
Virginia is classified as a "hybrid primary" state by the National Conference of State Legislatures, meaning that it's not entirely closed to registered party voters or open to all voters. The 24 "hybrid" states have varying rules about whether voters from one party can cross over to vote in another party's primary, and varying rules on allowing unaffiliated voters to cast a ballot in a party's primary, while in some states one party primary is open while the other is closed.
Virginia is among 21 states where both Republicans and Democrats can choose which party's primary to vote in with varying degrees of restrictions set up by state parties. A dozen states are considered strictly closed primaries, where only a voter registered with a party can cast a ballot in that primary. Still various other states generally have what would be broadly viewed as close primaries, but allow independents to pick a primary to cast a ballot in.
The NCSL does a more thorough breakdown of how states run their primaries, even if most hybrids could broadly fit in the open or closed category.
Virginia's move is not so unusual on the national stage.
"In some states, such as Alaska, political parties may decide for themselves whether to permit voters who are unaffiliated or are members of another party to participate in their primary," according the NCSL. "The parties may not necessarily all choose the same approach in a given state. For instance, in 2008 and 2010, the Alaska Democratic party allowed any registered voter, regardless of party affiliation, to participate in its primary, while the Republican party limited participation in its primary to its own members."
Among early nominating contests, Iowa and Nevada require party registrations, but New Hampshire and South Carolina do not.
—