WASHINGTON (TheBlaze/AP) -- The majority of Americans believe it is more important to uphold the religious rights of Christians than Muslims, according to a new Associated Press/NORC poll released Wednesday.
Solid majorities said it was extremely or very important for the U.S. to uphold religious freedom in general. However, the percentages varied dramatically when respondents were asked about specific faith traditions.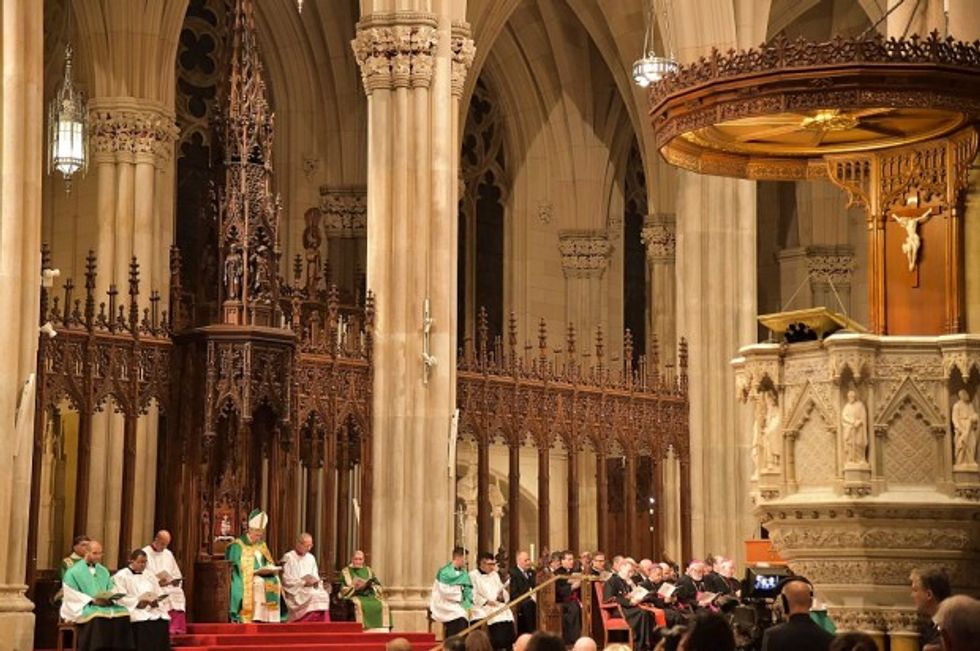 Pope Francis celebrates evening prayers at St. Patrick's Cathedral in New York, Sept. 24. (Getty Images/Vincenzo Pinto/AFP)
Eighty-two percent said religious liberty protections were important for Christians, compared with 61 percent who said the same for Muslims. About seven in 10 said preserving Jews' religious freedom was important, while 67 percent said so of Mormons. People who identified with no religion were ranked about even with Muslims in needing support to live out their beliefs.
Republicans and Democrats largely agreed on the issue. Among Republicans, 88 percent said it was important to preserve the rights of Christians, while just 60 percent said the same of Muslims. On the other hand, 83 percent of Democrats said preserving the religious rights of Christians was important, compared to just 67 percent who said the same of Muslims.
Charles Haynes, director of the Religious Freedom Center of the Newseum Institute, said the findings reflect deep divisions among Americans about the very definition of religious liberty.
"Religious freedom is now in the eye of the beholder," Haynes said. "People in different traditions, with different ideological commitments, define religious freedom differently."
The poll was conducted between Dec. 10-13, so more than a week after the Dec. 2 San Bernardino terror attack.
The survey of 1,042 adults was conducted via telephone and online. The margin of error is +/- 3.9 percent.