Former Florida Gov. Jeb Bush has cancelled a television advertising campaign in Iowa to redirect funds to field staff in the state, according to the Des Moines Register.
A spokesman for the Republican presidential candidate's campaign denied that Bush is pulling out of the state.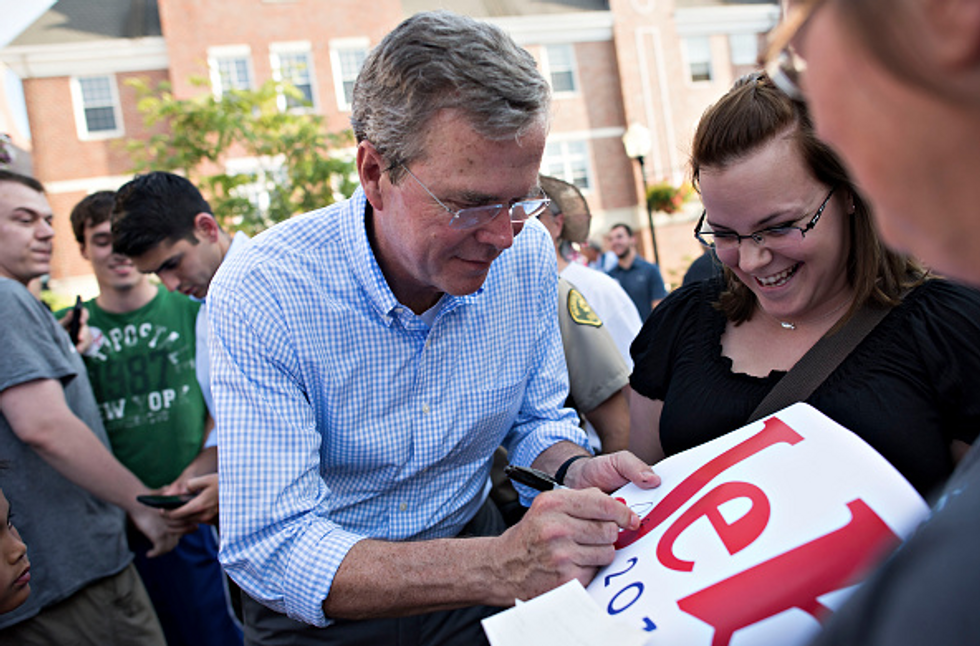 Former Florida Gov. Jeb Bush, who is seeking the 2016 Republican presidential nomination, signs his autograph in Pella, Iowa, June 17, 2015. (Daniel Acker/Bloomberg via Getty Images)
"We don't believe winning in Iowa is a necessary ingredient to winning the nomination, but we're working for a strong finish," David Kochel, an Iowa native and Bush's senior strategist, told the Register.
The shift in funds will almost double Bush's field staff in Iowa from 11 to 20 in the month prior to the Feb. 1 Iowa caucuses.
Bush will still appear often on Iowans' televisions — a pro-Bush super PAC has a $19 million ad campaign planned for all three early voting states.
According to the Register, Bush polls at fifth place among likely GOP caucus-goers, with 6 percent support.
GOP Texas Sen. Ted Cruz has "scored an unprecedented 21-point leap in polling in Iowa to claim the [GOP] front-runner slot," the Register reported.
The national Republican front-runner, Donald Trump, trailed Cruz by 10 points in an Iowa poll conducted by the Register and Bloomberg Politics earlier this month.