In July 2002, Marco Rubio sent a letter recommending his brother-in-law, who had served time in prison for cocaine trafficking, for a real estate license in Florida, according to a report in the Washington Post.
At the time, Rubio was the majority whip of the state House of Representatives. Now, the Republican U.S. senator is running for president in 2016.
The recommendation letter was written on Rubio's official stationery and addressed to the Florida Division of Real Estate. In it, the candidate doesn't state his relationship to Orlando Cicilia, who is married to Rubio's sister Barbara.
"I have known Mr. Cicilia for over 25 years," Rubio wrote. "I recommend him for licensure without reservation. If I can be of further assistance on this matter, please do not hesitate to contact me directly."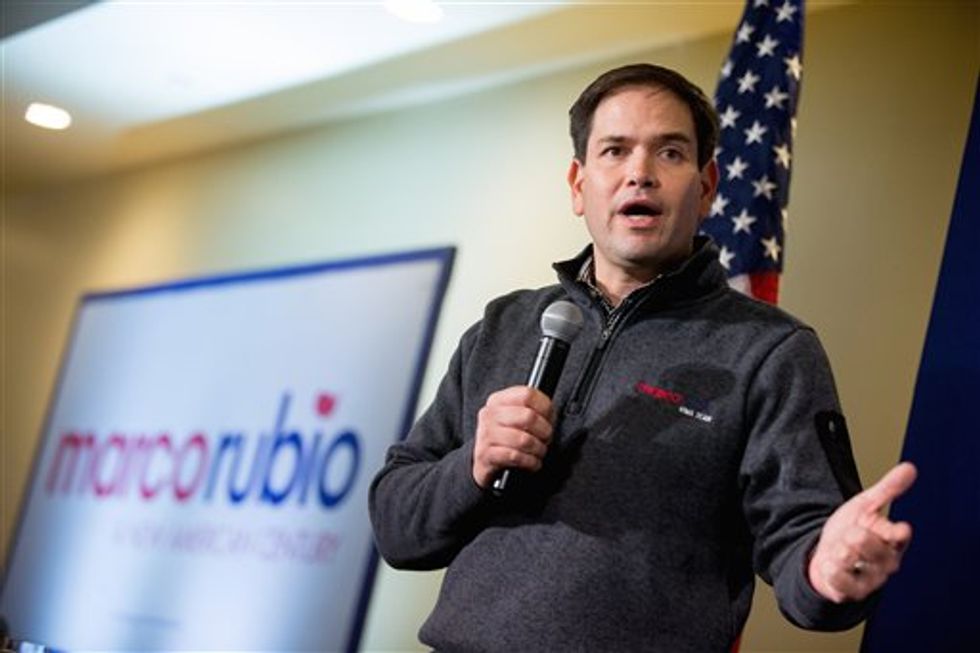 Sen. Marco Rubio (R-Fla.) speaks in Clinton, Iowa, Tuesday. (AP/Andrew Harnik)
Cicilia had served 11 1/2 years in federal prison for a cocaine trafficking conviction and was released one year and eight months prior to Rubio's July 2002 letter, according to the Post. He was convicted in 1989 for distributing $15 million of cocaine.
Rubio campaign adviser Todd Harris responded to the Post by saying:
Orlando made some very big mistakes almost 30 years ago, served his time, and has paid his debt to society. ... Today he is a private citizen, husband and father, simply trying to make a living. It is appalling and shameful that The Washington Post continues to drag him into the spotlight. ...

Marco has recommended scores of Floridians for various professional positions and after Orlando paid his debt to society, Marco was happy to recommend him as well. He believed Orlando should be judged on his own merits and felt it would be highly inappropriate, and could be perceived as exerting undue pressure, if his letter stated that Orlando was a relative.
Florida law doesn't exclude felons from holding real estate licenses, but the Florida Real Estate Commission considers applications on a "case-by-case basis," the Post reports. Rubio's letter was one of three recommendation letters Cicilia sent in to the commission with his application for a real estate license.