The issue of police chases that begin in other jurisdictions and cross into Jackson, Mississippi is predicated on race, according to City Councilman Kenneth Stokes.
Referencing a 1997 chase that killed the former Hinds County sheriff's cousin and uncle, Stokes said, "race is a factor for blatant disregard for public safety of innocent/elderly citizens in unlawful chases."
However, former Hinds County Sheriff  Tyrone Lewis slammed Stokes' assertions and said he "resented" what the councilman was implying — especially as the police officers who ran into his family that fateful day were not white.
"I'm very disappointed he would use my family in this. This is opening up old wounds," Lewis told WLBT-TV. "My family has nothing to do with his statements. We want nothing to do with it."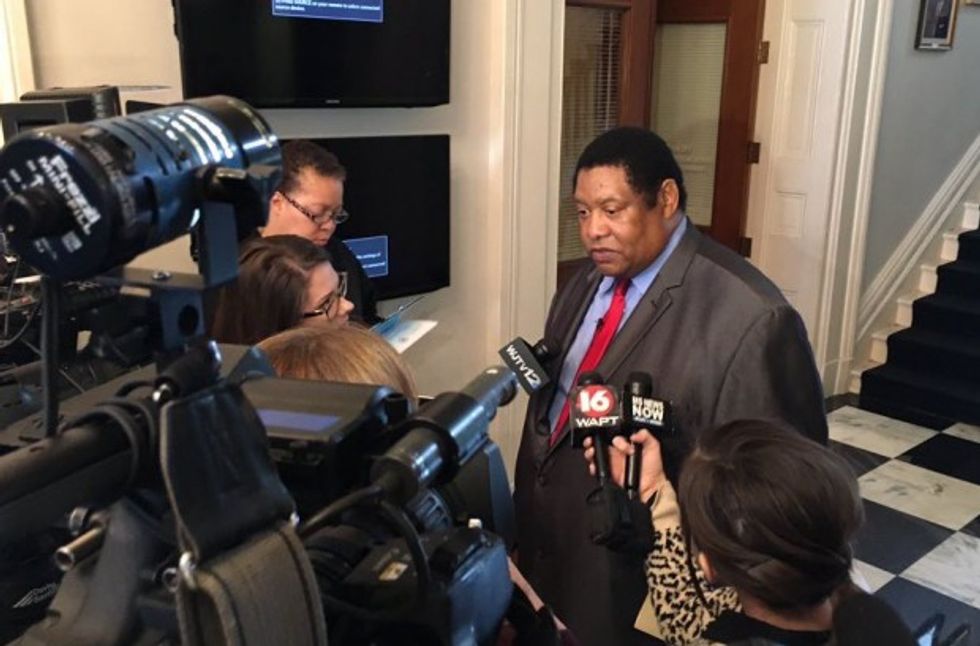 Image source: WLBT-TV
"[Stokes] has a problem with outside jurisdictions chasing into the City of Jackson," Lewis continued. "He's trying to mislead the public."
The Clarion-Ledger reported that Stokes said during a recent press conference that the police chases are commonly for misdemeanor offenses instead of more serious crimes, such as murder or kidnapping.
"How is this racial? Let's put the shoe on the other foot," Stokes said. "Suppose Jackson Police Department were chasing into Ridgeland and putting those white children in danger. Do you think those white folks would say everything is fine?" 
"I do not support what he is saying or doing. It's a slap in the face for law enforcement. I believe there are state statutes that allow certain jurisdictions into other cities for certain reasons, and when I was sheriff, we had a good relationship with other jurisdictions," Lewis said. "They would inform us before coming into Hinds County, and they would ask for assistance from Hinds County, and we would give them the assistance."
In a statement to WLBT, Stokes said that the Department of Justice has been asked to investigate the "unlawful" police chases that occur through Jackson.
"The City of Jackson is overwhelmingly majority African American. Jurisdictions surrounding the City of Jackson are overwhelmingly white. Is race a factor? The children and citizens of the City of Jackson are already burdened by living under the ever-present terror of the confederate flag being flown all over the capital city on every state building," Stokes said. "Dangerous car chases throughout Jackson neighborhoods by outside jurisdictions are adding insult to injury. This must stop!"
Stokes previously drew ire when he encouraged Jackson citizens to throw rocks and bottles at police officers to discourage them from crossing into the city.
Following that statement, Mississippi Gov. Phil Bryant (R) called for the attorney general to investigate whether his call to action "represent criminal threats against law enforcement officers." Madison County Sheriff Randy Tucker reiterated Bryant's call for the attorney general to investigate in his own statement.
---