Democratic presidential candidate Hillary Clinton pledged to "get to the bottom" of what's in Area 51 should she be elected president during an interview with a New Hampshire newspaper.
The reporter, Daymond Steer of the Conway Daily Sun, asked Clinton if she remembered discussing the topic with him during her previous campaign.
"Yes, I'm going to get to the bottom of it," Clinton replied.
Signs outside of Area 51 (Image source: Shutterstock)
According to the Daily Sun, at the time, Clinton revealed that "the No. 1 topic of freedom-of-information requests that her husband, former President Bill Clinton, received at his library was UFOs."
Asked about the former president's 2014 interview with Jimmy Kimmel where he remarked that he "wouldn't be surprised" if aliens came to Earth, Hillary Clinton replied, "I think we may have been [visited already]. We don't know for sure."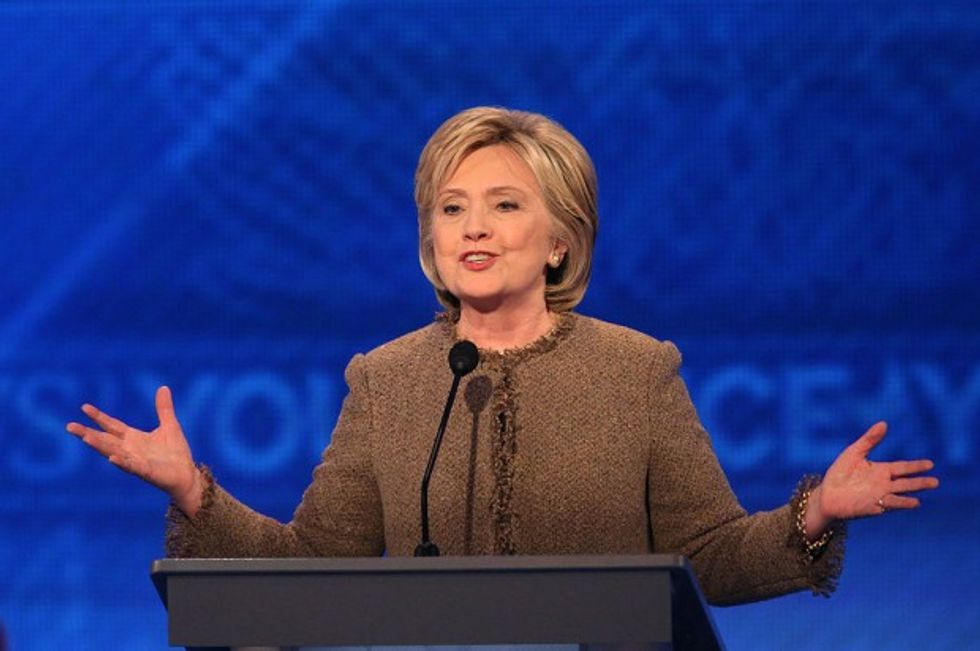 Hillary Clinton during the Democratic debate on Dec. 19. (Getty Images/Andrew Burton)
She added that John Podesta, her campaign chairman, is a believer in UFOs.
"He has made me personally pledge we are going to get the information out," Clinton said. "One way or another. Maybe we could have, like, a task force to go to Area 51."
During his interview with Kimmel, the former president promised that "there are no aliens there."
The Twitterverse had fun reacting to Clinton's remarks:
I suspect that the number 1 topic of FOIA requests for her presidency will not, unlike her husband's, be UFOs. https://t.co/wPRgnhO3cX

— Gabriel Malor (@Gabriel Malor) 1451918108.0
If elected she'll say there aren't any but thanks for the votes https://t.co/59qULz4E1y

— Peter Hopkins (@Peter Hopkins) 1451852902.0