Answers in Genesis CEO and President Ken Ham this weekend blasted New York City's newly released speech guidelines that threaten employers who repeatedly use the wrong pronouns for transgender individuals with fines up to $250,000.
"America has lost any semblance of biblical thinking, and this is clearly showing up in the laws and regulations that are being established. Sinful behaviors are being applauded and protected in the courts, and those who choose to disagree with sinful lifestyles are being punished for refusing to condone or accommodate these choices," Ham posted on Facebook Sunday.
America has lost any semblance of biblical thinking, and this is clearly showing up in the laws and regulations that are...

Posted by Ken Ham on Sunday, January 3, 2016
"As our culture continues to reject God's Word and do what's right in its own eyes, we can only expect things like this to increase," he added, providing a link to the guidelines released Dec. 21 by the New York City Commission on Human Rights.
The New York City Human Rights Law document offers numerous examples of what it considers to be violations, including the "intentional or repeated refusal to use an individual's preferred name, pronoun or title" such as calling a transgender woman "him" or "Mr." because "her appearance is aligned with traditional gender-based stereotypes of masculinity."
"All people, including employees, tenants, customers, and participants in programs, have the right to use their preferred name regardless of whether they have identification in that name or have obtained a court-ordered name change," the document stated, noting an exception for "very limited" cases where "federal, state or local laws require otherwise (e.g., for purposes of employment eligibility verification with the federal government)."
Requiring a transgender person to provide proof of their gender in order to use appropriate single-sex program or facility also constitutes a punishable offense.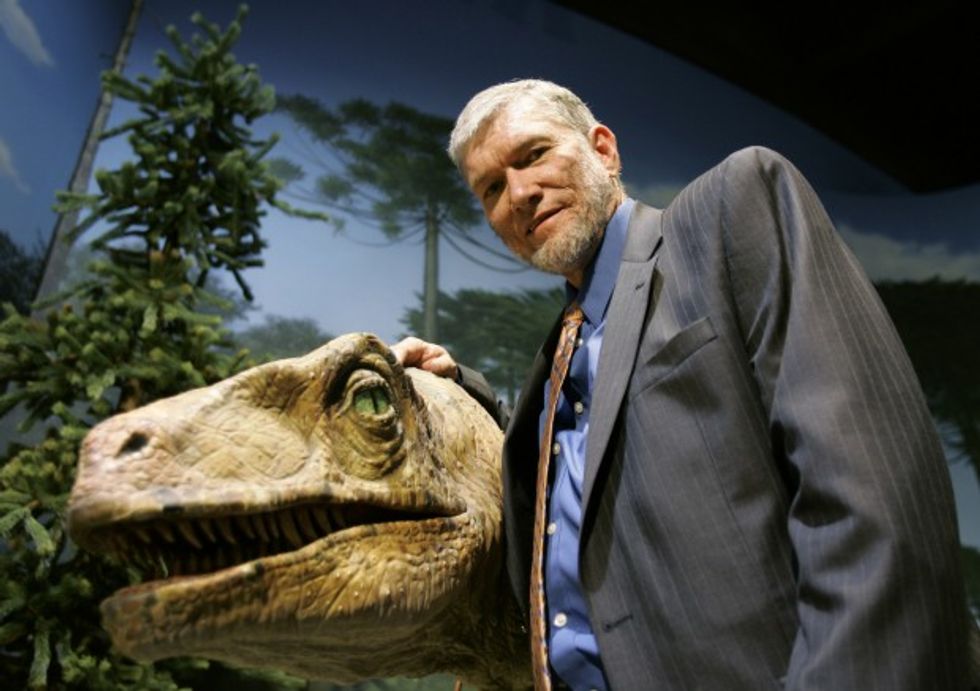 Ken Ham, founder of the nonprofit ministry Answers in Genesis, poses with one of his favorite animatronic dinosaurs during a tour of the Creation Museum in Petersburg, Kentucky. (AP Photo/Ed Reinke, File)
Civil penalties up to $125,000 or even $250,000 can be doled out for repeated violations, depending on their estimated severity, the existence of previous violations and the size of the employer.
In a blog post, Ham wrote that he verified with the NYCHRL to make sure he was correctly reading the new guidelines, which he said were "based on man's fallible opinions" and "not the Word of God."
Transgender issues received a lot of press in the U.S. throughout 2015. Notable was the coverage of a Houston city ordinance that would have allowed men to use women's restrooms, which 62 percent of voters struck down in a referendum back in November.
In September 2015, Harvard University announced that it would begin allowing students to self-identify by a number nontraditional gender pronouns such as "hir" and "zhe."
"This is something that people think is long overdue," Pamela Brown, a member of University of California's LGBT advisory group said shortly after Harvard's announcement.
Ham would certainly disagree.
"We aren't at liberty to change or redefine God's good design based on our emotions or feelings," he wrote. "Instead, we need to lovingly reach out to others with the truth of the gospel and God's Word to show them that we are all sinners in need of the Savior Jesus Christ. That's what this culture needs — the gospel of Jesus Christ to change hearts for now and eternity."