A Starbucks employee who allegedly used a customer's credit card information to buy groceries was confronted by that customer at work — and on camera.
Elizabeth Becerra of Victorville, California, was with her brother in the Starbucks drive-thru  when they recorded the video, which was later uploaded to YouTube, the Daily Mail reported.
"We're going to get even. That's what we're going to do," Becerra says, before pulling up to the window, where she confronts the alleged thief.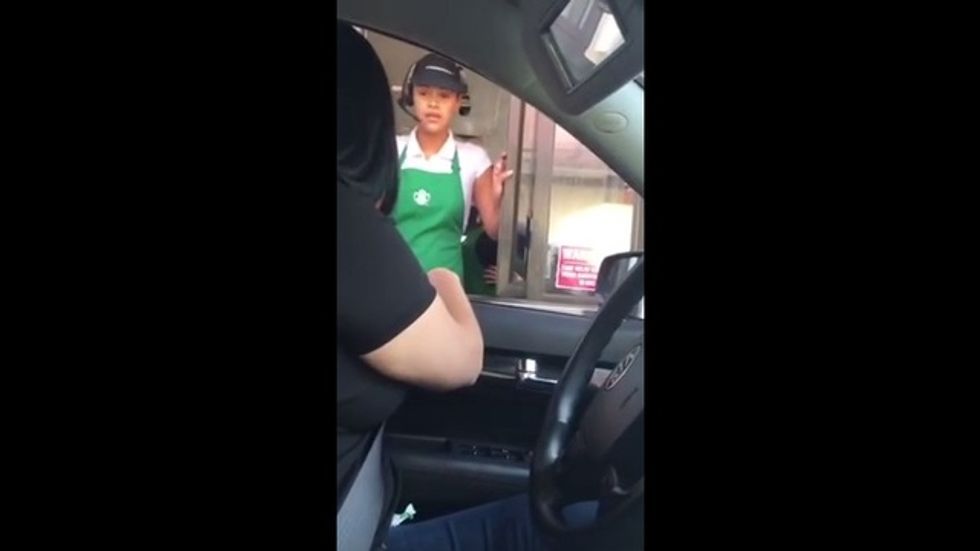 Image source: YouTube
In the video, Becerra informs the worker that there is video of her using the card to make a $212 purchase at the grocery store chain, Ralph's. Becerra then says that police are on their way to the store.
"You took a copy of my f***ing card the other day on New Year's Day. You know what you did," Becerra berates the employee. "You took a copy of my f***ing card while you said you were going to go get receipt paper."
The employee admitted to taking the action and offered an apology.
"I'm so sorry, ma'am. I'm sorry that I took money from you and your kids. I'm sorry that you had to come here. I'm sorry that this is inconvenient for you," the worker says.
Becerra, however, wasn't having it, despite the worker insisting that she is a "good child."
"I really do go to school. I'm 19. I play soccer," the worker says.
Becerra then tells the worker that she plans on filing charges against her.
The worker pleads with Becerra not to take legal action, to which the clearly upset customer responds, "You went through the $212. You come to Starbucks to get coffee, not to get robbed."
A representative for Starbucks confirmed that the employee no longer works for the company, and condemned the behavior as "completely unacceptable."
(H/T: Daily Mail)
–
This post has been updated.