CEDAR RAPIDS, Iowa (TheBlaze/AP) -- Nearing the completion of his first, and only, term in the Senate, Florida Republican Sen. Marco Rubio is dismissing the notion that Congress has the ability to help set the national agenda.
"We're not going to fix America with senators and congressmen," Rubio charged during a Tuesday town hall-style meeting with voters in Cedar Rapids. Only presidents, he said, can set the nation's policy agenda.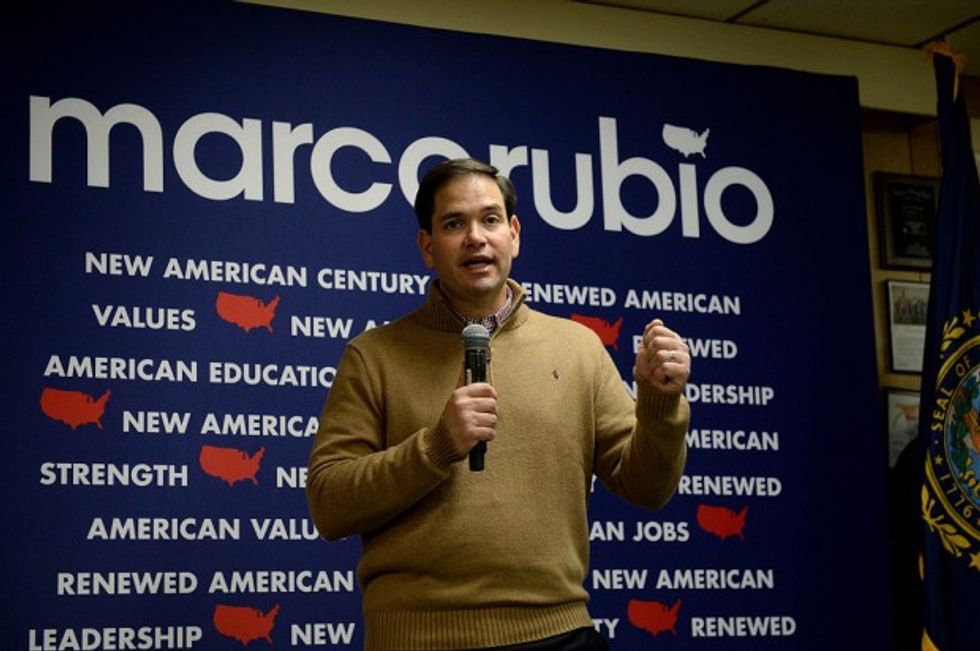 Marco Rubio speaks at a pancake breakfast at the Franklin VFW in Franklin, New Hampshire, Dec. 23, 2015. (Getty Images/Darren McCollester)
Rubio, who is running for the 2016 GOP presidential nomination, was responding to a question about his missing Senate votes in recent years. Rubio said his voting record "is close to 90 percent" over his term in the Senate. He could have run for Senate re-election and the White House at the same time, but decided to forgo a second Senate term and focus on his White House campaign.
"I have missed votes this year," Rubio conceded at the Cedar Rapids event. "You know why? Because while as a senator I can help shape the agenda, only a president can set the agenda. We're not going to fix America with senators and congressmen."
Members of the House and Senate, especially those on the campaign trail, routinely distance themselves from the unpopular Congress. Doing so is an especially potent applause line this presidential campaign year, during which outsiders — including billionaire developer and current Republican front-runner Donald Trump, who has never held public office — have built up solid support among Republican voters. GOP presidential rival Ted Cruz, a Texas senator, delights in asserting that his unpopularity among members in both parties makes him an establishment outsider in Washington.
Adding his voice to the anti-Washington talk Tuesday, Rubio vowed to put "the full weight and force of the presidency" behind a plan to institute term limits for members of Congress.
"You're going to get better government when you have new people constantly coming in," he said. "What happens over time is you get stale. You lose your drive. You become a creature of the institution. You fall in love with the institution. You think defending the Senate is more important than fighting on behalf of America."