A senior attorney in Chicago Mayor Rahm Emanuel's administration resigned Monday after a federal judge confirmed allegations that he had intentionally concealed evidence in a fatal police shooting trial, the Chicago Tribune reported.
U.S. District Judge Edmond Chang ruled Monday that Senior Corporation Counsel Jordan Marsh, a veteran attorney who had worked for the city since 1997, had also lied about his misconduct. According to the Tribune, this is the second case in less than a year that Chang has penalized Chicago lawyers for withholding evidence in separate lawsuits involving police conduct.
Chang's 72-page opinion overturned a jury's verdict in a lawsuit against Marsh and the city by the family of Darius Pinex.
Pinex died in January 2011 after being gunned down by two police officers at a traffic stop on the South Side of Chicago, the Tribune reported. Officers Raoul Mosqueda and Gildardo Sierra claimed in court that they pulled Pinex over because his Oldsmobile matched the description of a vehicle linked to an earlier shooting. Later evidence showed their testimony to be untrue.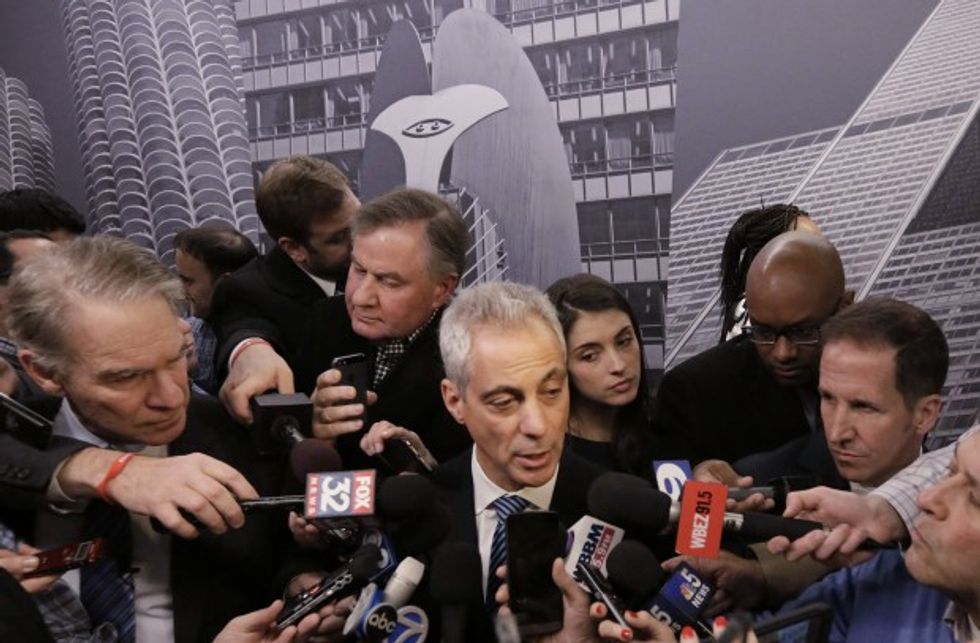 Chicago Mayor Rahm Emanuel and Chicago police have been under heavy scrutiny since the city, under court order, released a squad car video last month showing Officer Jason Van Dyke shooting 17-year-old Laquan McDonald in October 2014. (AP Photo/M. Spencer Green)
"There's just a total disregard for the truth, and it runs to the highest levels," Steve Greenberg, the attorney representing Pinex's family said Monday. "There is a culture to cover up and win at all costs."
Court records reveal that Sierra and Mosqueda did not hear the police dispatch as they had claimed because it aired over a separate radio zone, the Tribune reported. About halfway through the trial Marsh admitted, in the absence of the jury, that he had neglected to turn over a recording of the broadcast that actually aired over the officers' Zone 6 radios the evening Pinex was killed. It turns out that the Oldsmobile described in the dispatch did not match Pinex's vehicle and was not actually wanted in connection with a shooting.
Marsh originally said that he heard about the recording that day, but later admitted it was the week before trial. According to the Tribune, when Judge Chang pressed the attorney on why he withheld knowledge of the recording after hearing it from a police sergeant, Marsh claimed that he hadn't considered that the information might be helpful to the plaintiffs.
"My thought process was, I want to see what is on that [recording]," he said. "You know in retrospect I think I should have, but I wanted to talk to the sergeant and to see whether it was even relevant."
Chang was not sympathetic, ruling that Marsh had "intentionally concealed" the recording.
"After hiding the information, despite there being numerous times when the circumstances dictated he say something about it, Marsh said nothing, and even made misleading statements to the court when the issue arose," Chang said.
Though a jury had initially ruled in favor of the officers, Chang has ordered a retrial in light of the recent evidence against Marsh.
"Attorneys who might be tempted to bury late-surfacing information need to know that, if discovered, any verdict they win will be forfeit and their clients will pay the price," he wrote in his opinion. "They need to know it is not worth it."
Greenberg expressed Monday that he and the Pinex family were pleased with Chang's ruling and look forward to retrying the case.
"We know those officers had no right to pull those two men over," he told DNAinfo Chicago. "Their entire story was fabricated. They must have been fed it."
Chang's decision to dismiss Marsh comes less than a week after Mayor Rahm Emanuel announced new reforms to be applied to police training in Chicago. The effort to hold Chicago officials accountable in corruption cases such as Marsh's promises to be an ongoing project.
(H/T: Chicago Tribune)