Sen. Marco Rubio (R-Fla.) blasted North Korea's alleged testing of a hydrogen bomb late Tuesday, charging that it's a byproduct of the "failed Obama-Clinton foreign policy."
"I have been warning throughout this campaign that North Korea is run by a lunatic who has been expanding his nuclear arsenal while President Obama has stood idly by," the Republican presidential candidate said in a statement to reporters.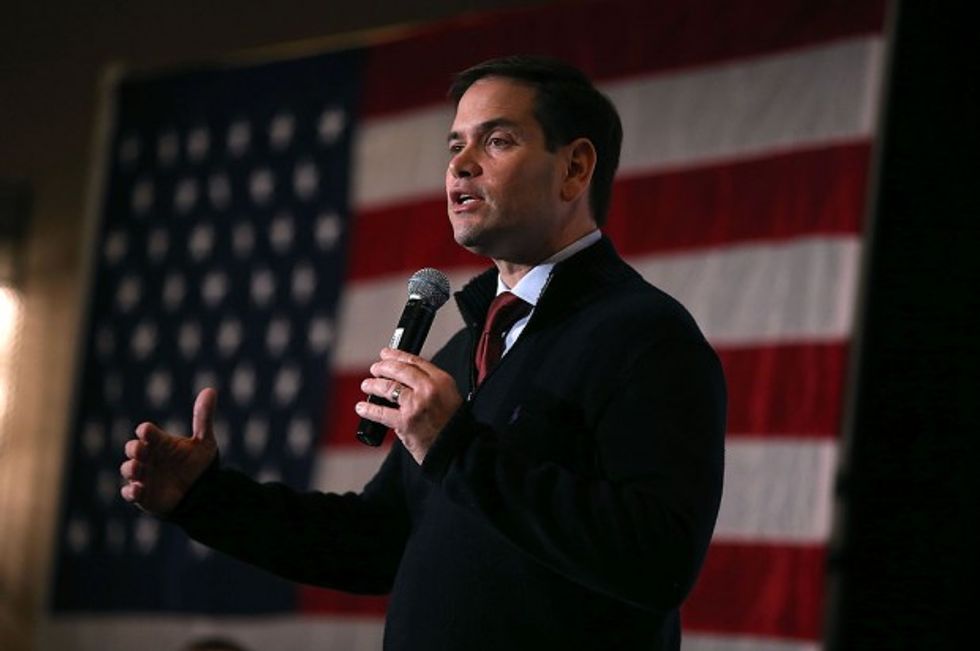 Marco Rubio speaks during a campaign rally at the Renaissance Las Vegas, Dec. 14, 2015. (Getty Images/Justin Sullivan)
"If this test is confirmed, it will be just the latest example of the failed Obama-Clinton foreign policy," he continued. "Our enemies around the world are taking advantage of Obama's weakness."
Rubio, who has made foreign policy a key part of his presidential campaign, said that in order to keep America safe, the country needs new leadership that doesn't cower to enemies.
"We need new leadership that will stand up to people like Kim Jong-un and ensure our country has the capabilities necessary to keep America safe," he said.
However, the Untied States has yet to confirm whether the reports that North Korea successfully detonated a hydrogen bomb are true, according to the White House.
"While we cannot confirm these claims at this time, we condemn any violation of UN Security Council resolutions and again call on North Korea to abide by its international obligations and commitments," National Security Council spokesman Ned Price told the AP.
—
Follow the author of this story on Twitter and Facebook:
[facebook //www.facebook.com/plugins/like.php?href=