Tulsa police are looking into a claim posted by a self-professed serial killer on Craigslist.
According to police, a Craigslist user reported the post to the authorities, who then subpoenaed Craigslist for more information. They have not ruled out the possibility of fraud.
If the claim is true, it would mean a murderer is at large and plans to kill again.
The disturbing post, written as though from an aspiring serial killer, "thanks" Tulsa for "letting me have my first kill" and goes on to say the poster plans to head to Oklahoma City the next kill. The individual described the first murder as "stranger on stranger," so authorities "will have a difficult time" trying to pin a motive and a suspect.
Katie Higgins, a reporter for KOKI-TV, saw the post and sent it to Tulsa law enforcement. Dave Walker with the Tulsa Police Homicide Unit confirmed that they issued a subpoena to Craigslist and are looking into it.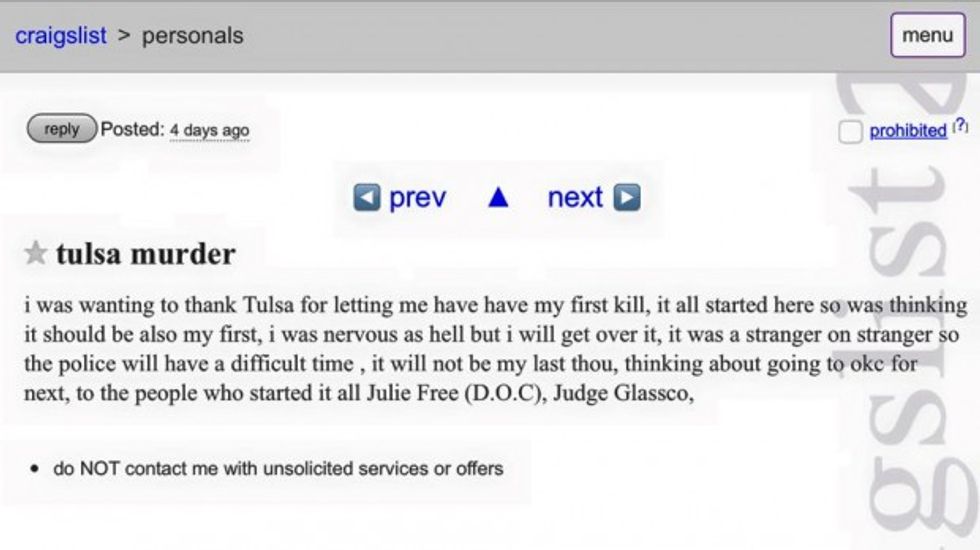 A KOKI-TV reporter discovered this disturbing Januaray 2 post on Craigslist and reported it to Tulsa authorities. Image source: Katie Higgins / Facebook
"Intelligence folks said they saw it and they are going to work on it," Walker told KOKI-TV.
But the results from the subpoena could take a while, authorities said.
In the meantime, Walker has said that it is likely the post was a scam or hoax.
"You know, we don't have anyone who is unaccounted for," he said. "We don't have a dead person that we haven't figured out."
He told KOKI-TV about a similar situation he saw before when a number beginning with "918"—Tulsa's area code—texted people questions about burying a body.
"Maybe they are drunk or stupid," Walker speculated.
The difference with the recent murder claim is that the Craigslist post mentions people by name: A local judge and a Department of Corrections employee.
"Specifically naming those folks means there is some sort of connection," Walker explained.
Police had no further updates as of Thursday morning.
__
(H/T: KOKI-TV)
__
Front page photo courtesy of Shuttershock.