Brian Cavalier, who has been acting as bodyguard for ranchers Cliven and Ammon Bundy during a controversial protest in Oregon, lied about serving as a U.S. Marine, the Daily Mail reported.
According to the Daily Mail, Cavalier, 44, "has faked his military background to appear more credible as a militia henchman — a fact sure to anger some of the group's supporters."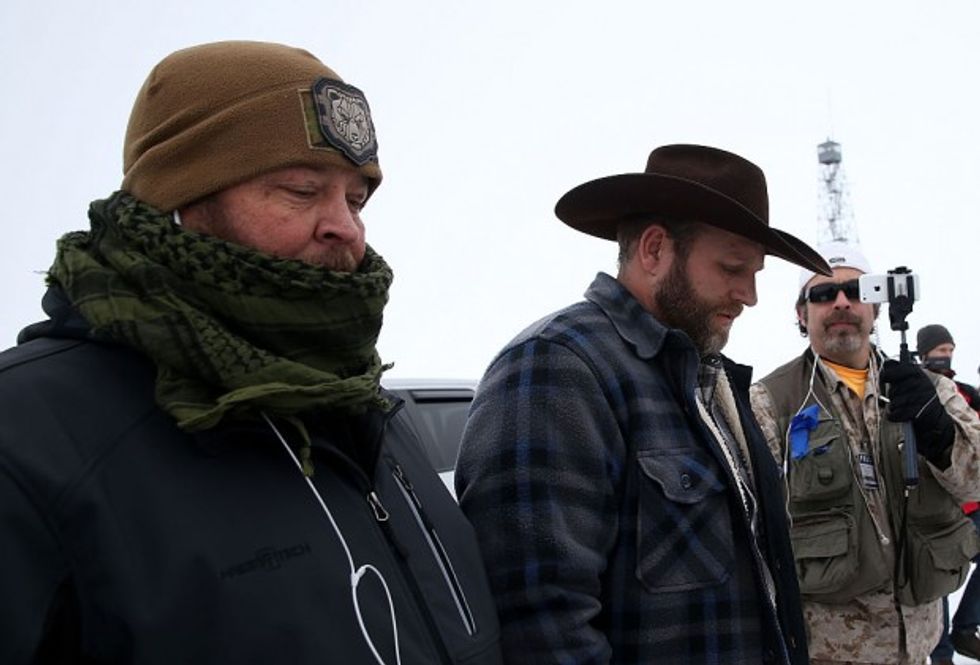 Brian Cavalier, left, stands next to Ammon Bundy in front of the Malheur National Wildlife Refuge Headquarters Jan. 5 near Burns, Oregon. (Justin Sullivan/Getty Images)
U.S. Marine Corps records show that "Cavalier has never served as a Marine, whether it be as a recruit or a Marine Corps contractor."
In reality, Cavalier is a tattoo artist "with a long rap sheet," including DUI and theft, according to the Daily Mail.
When confronted by the Daily Mail, Cavalier said, "That's unfortunate that someone would say that," before declining to comment. He claimed that he had served in Afghanistan and Iraq.
When the reporter asked to enter the occupied building, Cavalier denied them access "for security purposes."
The Daily Mail notes that falsely claiming to be a Marine is not illegal in and of itself — but under the Stolen Valor Act of 2013, one can be prosecuted for lying about their status as a service member if they attempt to obtain money, property or other material goods, or if one lies about having a combat decoration.
Bundy, along with a group of armed men, have occupied a wildlife preserve in Oregon to protest the sentencing of ranchers convicted for arson after setting fires on federal land.