Though he says no Democrat would ever admit it, Republican presidential contender Sen. Marco Rubio (R-Fla.) says a complete ban on guns is what the left really wants.
"They are obsessed with gun control because, here's the truth, if the left had their way, they'll never admit this because they don't have the votes to do it and they don't have the public support to do it, but if they could confiscate guns they would," Rubio told Glenn Beck during an interview on TheBlaze TV.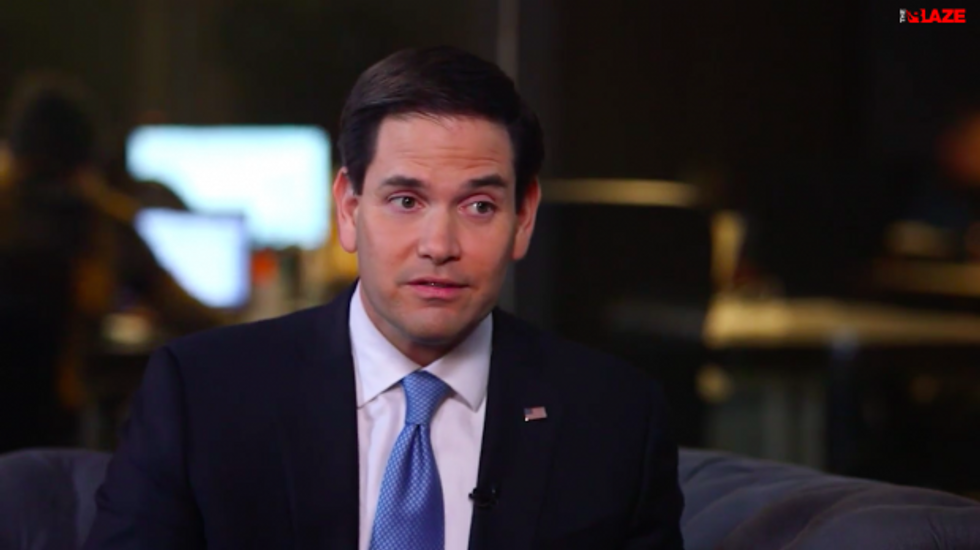 Marco Rubio discusses gun control and the Second Amendment with Glenn Beck. (Image source: TheBlaze TV)
In fact, Rubio believes Democrats would support a complete ban on guns if they felt the legislation would pass on Capitol Hill.
[sharequote align="right"]"One of the things the left struggles with, the Second Amendment is not some law we passed. It is in the Constitution."[/sharequote]
"If they could have their way, few if any Americans would own guns," Rubio asserted.
As a state lawmaker in Florida, Rubio was instrumental in the "stand your ground" law the state now boasts. In fact, Rubio co-sponsored the bill, which became a central talking point during the 2012 shooting of Trayvon Martin by George Zimmerman.
Though Rubio now touts his "A" rating from the National Rifle Association, he hasn't always had such a great relationship with the gun rights group. As the speaker for the Florida House, Rubio was not a strong supporter of legislation that would have allowed employees to bring guns into their workplace — a move that strained the lawmaker's relationship with the NRA.
But Rubio was very bold on his pro-Second Amendment stance during his interview with Beck, indicating that he would strongly protect Americans' constitutional right to keep and bear arms.
"One of the things the left struggles with, the Second Amendment is not some law we passed. It is in the Constitution. It is a constitutionally-protected right," Rubio said. "That means if you are going to do anything that touches upon it or infringes upon it, you have to pass a very high bar, and they're not passing that high bar."
According to Rubio, some states with the strongest gun laws have some of the highest gun violence rates "because it proves gun laws don't work," adding that criminals don't care what the laws are: "That's why they're criminals, by definition."
"Law-abiding Americans deserve the right not just to use it for sport, but to protect themselves and their families, and this president just doesn't fundamentally believe in the Second Amendment and is obsessed with undermining it," Rubio concluded.
Complimentary Clip from TheBlaze TV The full episode of The Glenn Beck Program, along with many other live-streaming shows and thousands of hours of on-demand content, is available on just about any digital device. Click here to watch every Glenn Beck episode from the past 30 days for just $1!