What is Republican presidential candidate Donald Trump's biggest concern? According to GOP hopeful Sen. Marco Rubio (R-Fla.), being in the news is at the top of the billionaire's to-do list.
"I think what Donald does is he tries to be in the news everyday. And if the news is not about him, he'll say something to make sure the news is about him," Rubio told Glenn Beck during an interview that aired on TheBlaze TV Thursday evening.
"He's masterful at it," the Florida senator added.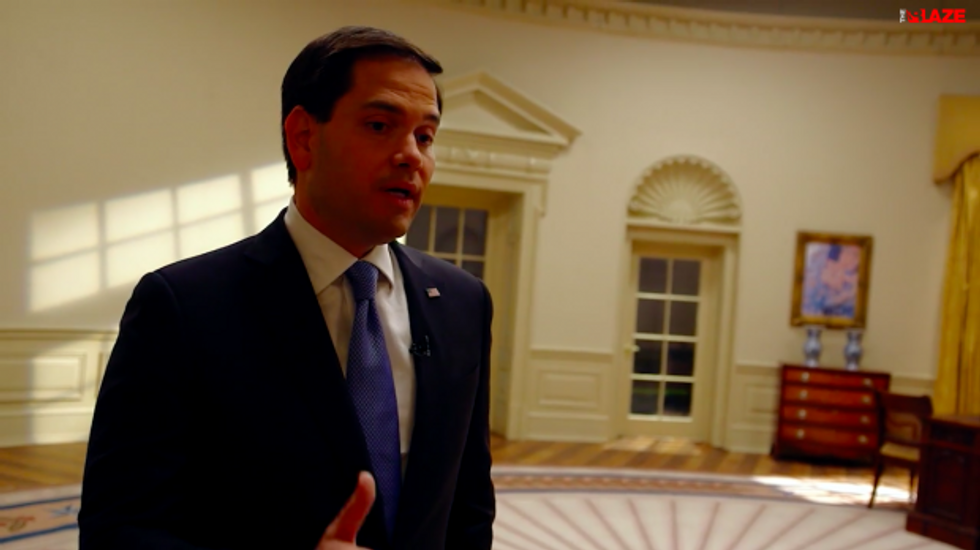 Marco Rubio discusses Donald Trump with Glenn Beck. (Image source: TheBlaze TV)
Trump, who has dominated the polls since announcing his candidacy in June of last year, is anything but shy when it comes to lobbing insults at his fellow Republican rivals.
Both Trump and Rubio have traded jabs in the past, including a tweet storm from the GOP frontrunner — a tactic that has come to be somewhat of a trademark for Trump. In November of last year, Trump referred to Rubio as a "lightweight" who is "totally weak" on immigration, even mocking the sitting senator for his 2013 response to President Barack Obama's State of the Union address.
Shortly after Trump launched his campaign last summer, Rubio referred to the businessman's language as both "offensive" and "divisive." In his interview with Beck, Rubio — who is polling at 10 percent in the latest national poll — doubled down on criticism for Trump.
"You do need a president who does two things: No. 1 is to ensure we are safe from a national security perspective. Donald has not shown any seriousness or even intellectual curiosity with the issues this nation is confronting," Rubio remarked.
Instead, according to Rubio, Trump has been focusing on "platitudes" and "outrageous remarks." The Florida lawmaker lectured Trump on policies, saying it is the private sector and not presidents who create jobs.
"You've got to support policies that help our free enterprise economy succeed. The private sector creates jobs, not presidents," Rubio chided. "But you have to have policies that make America the best place in the world to do that."
"He hasn't really been very serious about detailing exactly what he'll do. I do think it is unwise to elect someone as president that tells you what he's going to do, but refuses to tell you how he's going to do it," Rubio said.
Complimentary Clip from TheBlaze TV The full episode of The Glenn Beck Program, along with many other live-streaming shows and thousands of hours of on-demand content, is available on just about any digital device. Click here to watch every Glenn Beck episode from the past 30 days for just $1!