When Bill Clinton was president, he and Britain's then-Prime Minister Tony Blair enjoyed a close political and personal relationship. A series of recently released conversations between the two political leaders indicate that Blair and Clinton also enjoyed their fair share of gossip.
The 532 pages of conversations released last month by the Clinton Presidential Library included talk about foreign relations that one might expect, but they also reveal Clinton's contempt for former President George W. Bush and Blair's enthusiastic reverence for Clinton's wife.
Clinton shared with Blair his critique of Bush in an October 1999 call, speculating about how Bush and his team were preparing themselves for the upcoming election.
"He is making people think he is saving them from the right. But it's a fraud because he is really for them on everything else," Clinton said. "I have to figure out how to expose the fraud that Bush is the new Clinton, establishing a new Republican Party like I made a new Democratic Party."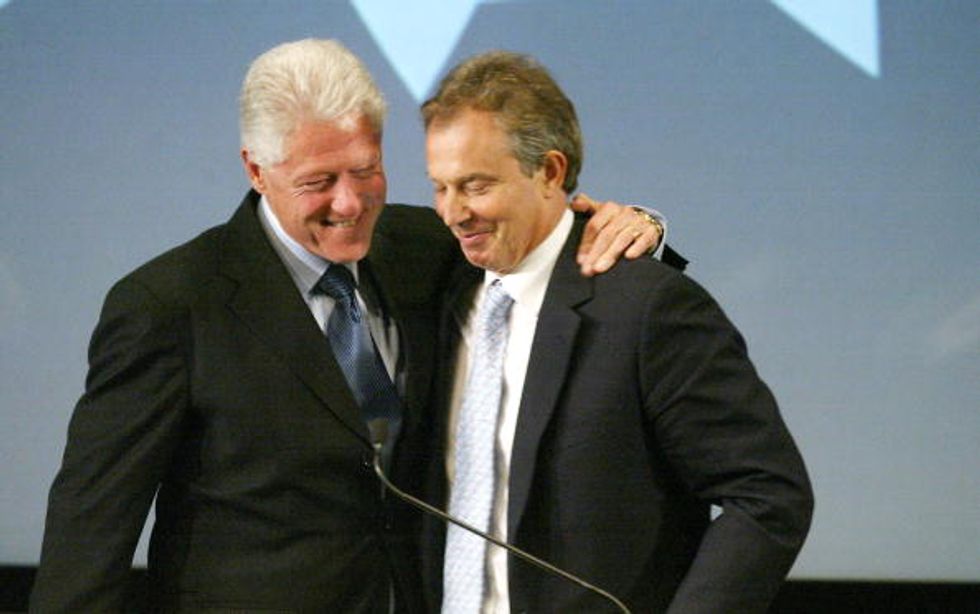 Former President Bill Clinton welcomes British Prime Minister Tony Blair during a press conference announcing a partnership between the Clinton Climate Initiative and Large Cities Climate Leadership Group Aug. 1, 2006, in Los Angeles. (J. Emilio Flores/Getty Images)
In conversations that took place during the spring of 2000, Clinton called Bush "really smart," but told Blair, "He is not ready to be president."
"I am terrified these guys will get in and say Reagan was right about Star Wars," Clinton said.
In a September 2000 conversation, Blair commended Clinton on his wife's Senate campaign, calling Hillary "wonderful," "brilliant" and "fantastic, strong and brave."
Many of the conversations revolved around foreign relations with Russia and the Middle East, as well as the subject of climate change.
In a 1997 conversation, Clinton told Blair, "I'm still concerned about Iran becoming an industrial and military giant, given their philosophy." And in November 2000, the two speculated about future relations with Russian President Vladimir Putin.
"I think the other thing is he is only now choosing the people around him," Blair said. "That really matters in terms of what is being pumped into his ears. He is highly intelligent." Clinton called Putin "intelligent and disciplined," but noted that "a lot of people pour crap in."
In one conversation, Blair asked Clinton about his efforts "to bring people around on the environmental issue." Clinton expressed his frustrations, accusing the U.S. Senate of living "in the Dark Ages" and refusing to ratify anything he signed. Clinton said that his opponents in the Senate were "mostly the Republicans, but Democrats, too."