When it comes to poverty, Republicans need to get the American people on board with their policies by going "into the den of the lion" and talking to people who aren't necessarily conservatives, a few GOP presidential candidates said on Saturday.
Former Florida Gov. Jeb Bush, retired neurosurgeon Ben Carson and New Jersey Gov. Chris Christie are all vying for the 2016 Republican presidential nomination, but while together on a panel at the Kemp Foundation Forum on poverty, the three agreed on a needed change within the GOP — campaign more in places where they are "uncomfortable."
"We have to be willing to go into the den of the lion," Carson said, and recalled his time at Al Sharpton's National Action Network.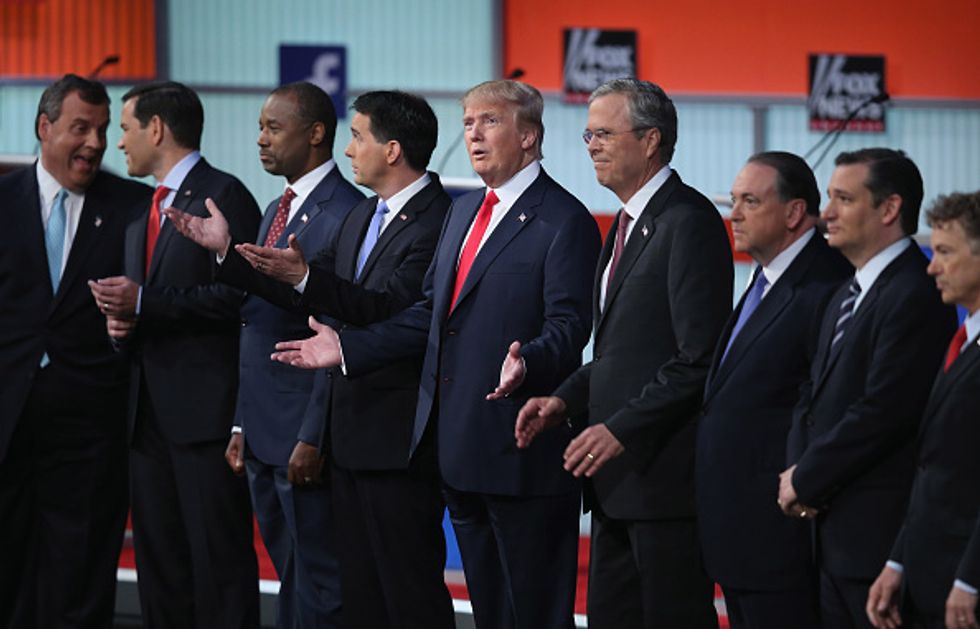 GOP presidential candidates. (Photo by Scott Olson/Getty Images)
"When we go there, and we talk about what we believe, they actually resonate with them," Carson said. "We have to stop having this phobia. We have much better policies than the Democrats do."
Christie urged his fellow Republicans to stop campaigning at Chamber of Commerce lunches as "we got their votes already for the most part."
"We as Republicans need to go back to campaigning in places where we're uncomfortable," the New Jersey governor said.
"The fact is that we need to be going into African American churches, we need to be going to the Hispanic communities and the barrios," he said. "We go there first to listen. We don't go there first with some 10-point plan because they don't want to hear it. What they want is to be listened to. Listening is empowering. And first we have to listen, and our party has failed in going into those places because we've said we don't get instant gratification back so why go there, and we narrow our sights on what we can do and how we can build our party."
Bush agreed and said Republicans "have a huge opportunity here because the president's policies have failed."
"Now we have to act, and our ideas are the best ideas," Bush said.
House Speaker Paul Ryan (R-Wisc.) and Sen. Tim Scott (R-S.C.) moderated the panel Saturday in Columbia, South Carolina.