House Speaker Paul Ryan (R-Wisc.) said he was "wrong" to refer to some people as "takers" and others as "makers" while discussing economic policy in the past.
In an interview with CBS' "Face the Nation," Ryan said that he has changed his rhetoric when it comes to that particular phrasing not because of political correctness, but because he was simply "wrong."
"Well, I think I was wrong. When you do something that is wrong, you should call it to it," Ryan told host John Dickerson in the interview set to air on Sunday.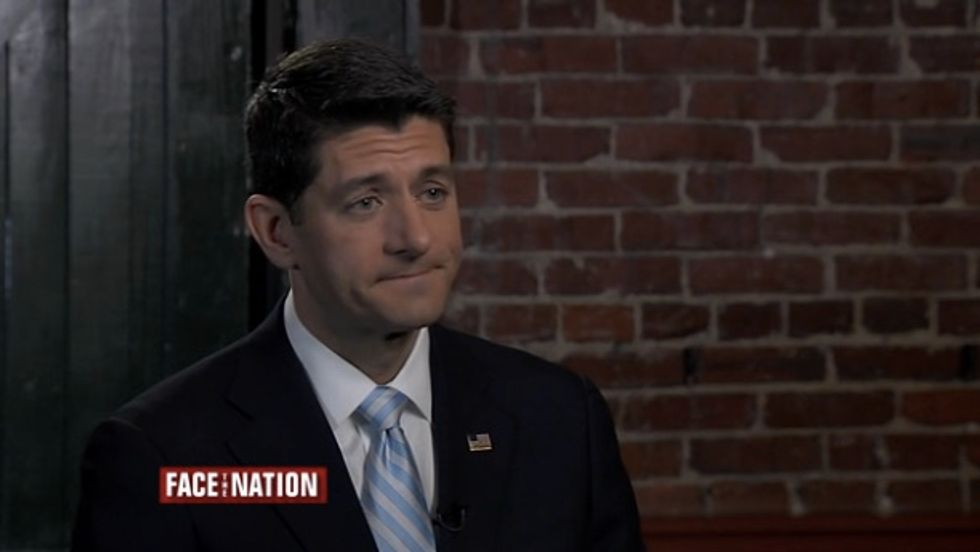 Image source: CBS News
"People who go on government assistance, people who go on government benefits, sure, some people are going to exploit the system. Some people choosing to just live on the dole and not work because they prefer that," Ryan said. "That's a small percentage of it. Most people don't want to be poor. Most people don't want to be dependent, and if we speak as if everybody is in this category, that's wrong."
"We need to respect people for the ambitions and the goals and the dreams that they actually have, and then help facilitate their access to it," Ryan continued.
He added that while he thinks political correctness has "gone way overboard," but "let's just be accurate."
"Let's be right. Let's not have populism that's unattached from our principles," Ryan said.
The "Face the Nation" interview isn't the first time Paul has admitted he was wrong about the phrasing of "makers and takers." In a 2014 opinion piece for the Wall Street Journal, Paul said he was wrong to use the rhetoric as it "gave insult where none was intended." However, as CBS noted, as Speaker, Ryan has "thrust" poverty into the spotlight for 2016.
Along with South Carolina Sen. Tim Scott (R), Ryan hosted the Kemp Foundation Forum on Expanding Opportunity Saturday in Columbia, South Carolina which included anti-poverty discussions with six GOP presidential hopefuls.
Conservatives need to have an answer to this—because we do not write people off in this country. We just don't. https://t.co/obWRaVtQt4

— Paul Ryan (@SpeakerRyan) January 10, 2016