Most terrorist attacks are committed by white men, a California college professor lectured his class of mostly freshman.
"Ninety percent [of terrorist attacks in the U.S.] are from these white Caucasian men," University of California-Merced professor Dr. Ross Avilla told an introductory psychology class. "And by the way, I am not saying white men are evil — but that is what we should be thinking about. Usually they are people who are religiously motivated and politically conservative."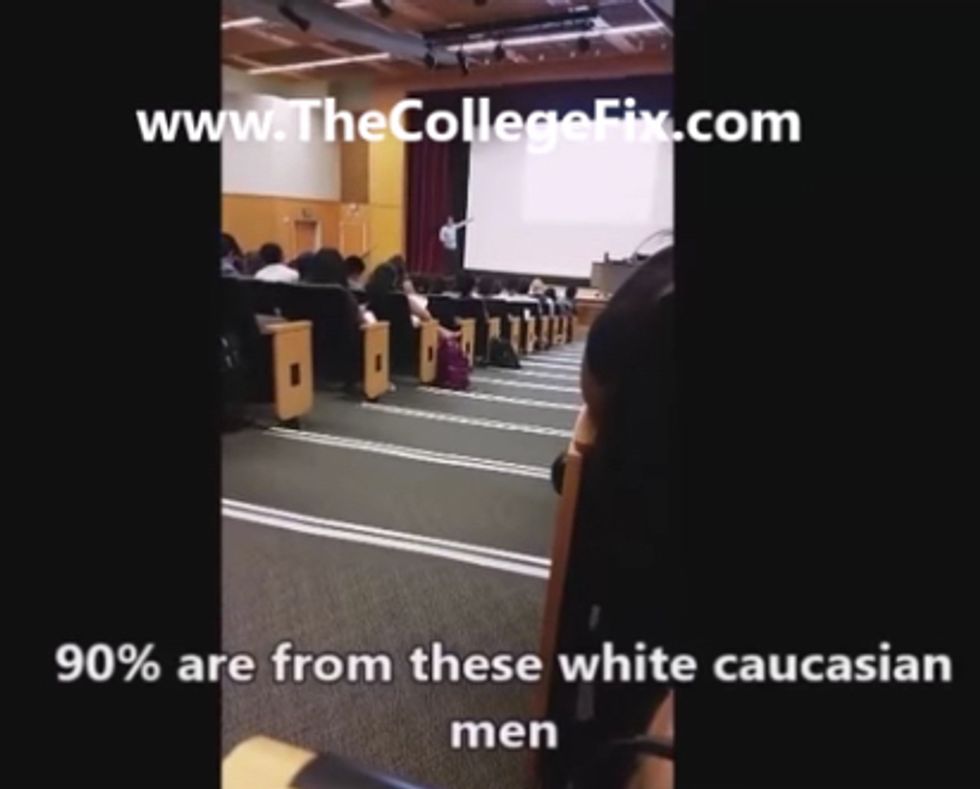 Image source: The College Fix
"And these are the type of people we always think of being like really against terrorism — and most are — but these are also the people who kind of fall off the wayside probably because of things like mental illness," he continued. "And they do things that, you know, are called terrorism, and are terrorism."
The College Fix, a campus news site, obtained the footage of the lecture, which was reportedly given to around 250 students in October — only a few weeks prior to UC Merced student Faisal Mohammad's stabbing rampage on the California campus. An Islamic State flag and manifesto were found among the 18-year-old's belongings by police after the attack.
In an email to the College Fix, Avilla said that he would not have given that lecture had the stabbing happened before, as it could have been "traumatizing to to some of the students."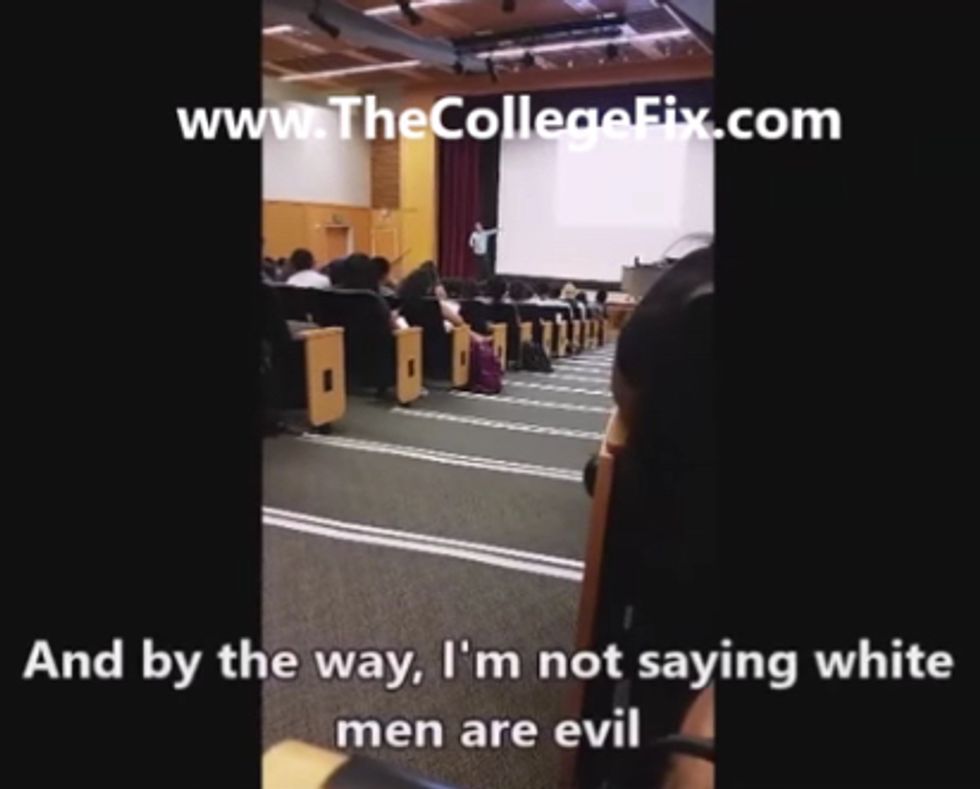 Image source: The College Fix
"After the school stabbing took place, I made sure to exclude anything from my lectures that could have triggered memories of the school stabbing," he wrote. "I also spent time in class discussing the tragedy with students, helping to answer their questions about it and offering information on how to get psychological services if they need it. I care tremendously about my students and their personal well-being."
"As far as that specific lecture goes, it was on heuristics (mental shortcuts that can cause misperceptions)," Avilla continued in the email. "A common heuristic about terrorists is that they are most often Muslims. I wanted to show the class that was not the case."
Avilla's comments during his lecture were reiterated in a slide provided to students that reportedly said, "Since 9/11, most terrorist attacks in the U.S. have been perpetrated by White, Caucasian men. Most often by those who are conservative and highly religious. And yet, a 2015 poll found 27 percent of Americans believe that 'most Muslims wish to commit terrorism against the U.S.'"
In his lecture, Avilla also said that a white Christian male recently went into the Texas statehouse armed with an AK-47 rifle and fired approximately 60 rounds at the statehouse. While no one was injured in the incident Avilla described, he said it was still "an act of terrorism."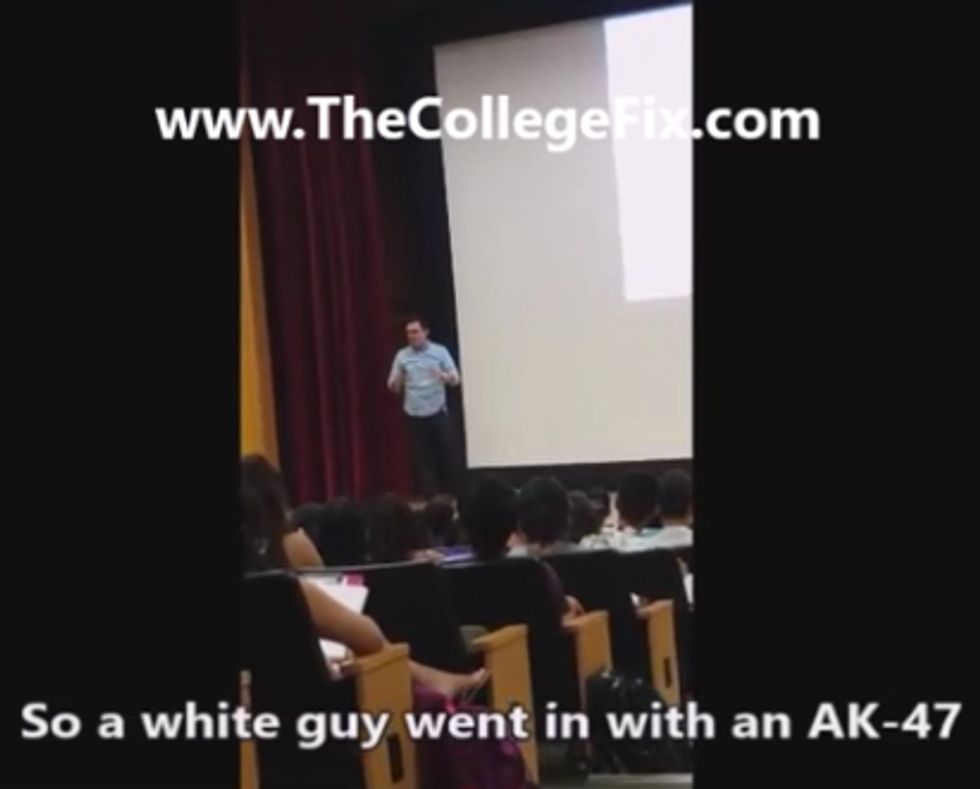 Image source: The College Fix
"Now imagine if that guy was a Muslim," Avilla said in the video. "If a Muslim came in with an AK-47 and shot at the statehouse in Texas — how many of ya'll would hear about it then? Everyone. It would be all that was on the news."
However, that incident did not happen. In his email to the College Fix, Avilla mentioned that he had gotten a few details wrong, which he said he "regretted." Instead, the professor was referring to an armed man who stormed Georgia's Forsyth County Courthouse in 2014.
"I think it shows the absurdity of how progressives will try to label their opponents or anyone remotely right of center as someone who wants to topple the government through acts of terrorism and ignore leftist anti-government terrorists such as Bill Ayers," one anonymous student told the college news site.
Watch the footage from the Avilla's class lecture below.