Following the failures of top Obama administration officials to respond to their multiple inquires regarding the immigration history of dozens of people implicated in Islamic terrorism, Republican Sens. Ted Cruz (Texas) and Jeff Sessions (Ala.) are now asking those officials to complete an information worksheet.
In a new letter sent to Attorney General Loretta Lynch, Homeland Security Secretary Jeh Johnson and Secretary of State John Kerry on Monday, Cruz and Sessions demanded that the officials complete an attached chart of the immigration history of 113 individuals who have been identified as having some sort of affiliation with an Islamic terrorist group. Of the 113 people, at least 14 were admitted to the U.S. through the refugee program, the senators contended.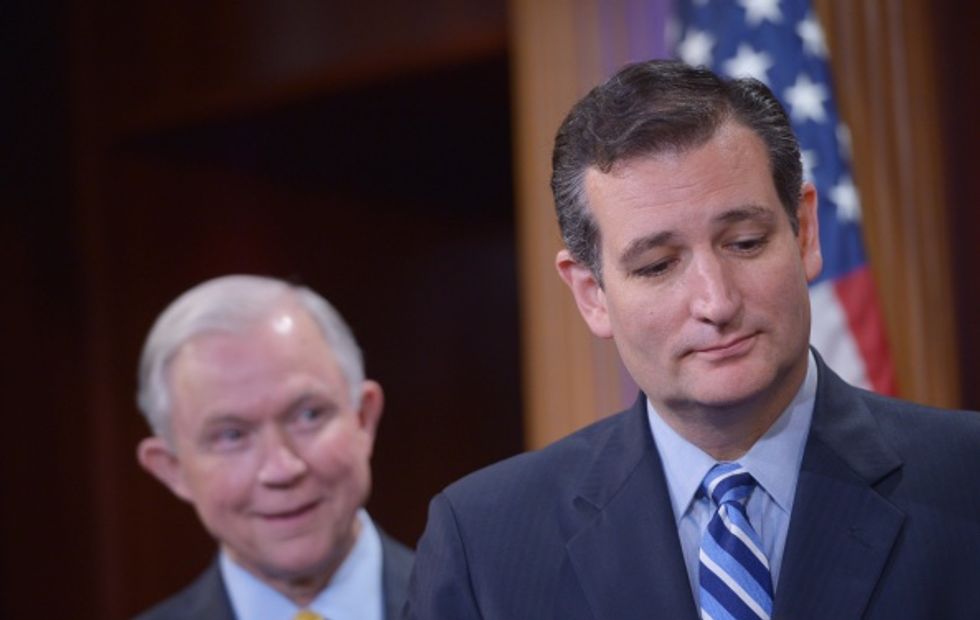 GOP Sens. Ted Cruz (Texas), right, and Jeff Sessions (Ala.) appear at a Sept. 9, 2014, press conference on immigration. (Mandel Ngan/AFP/Getty Images)
"The resources spent every year investigating the countless number of immigrant terrorist suspects in the United States are astronomical," the senators wrote. "And yet, as this costly and dangerous status quo continues, the U.S. continues to admit approximately 680,000 migrants from Muslim countries every five years. The American people are entitled to information on the immigration history of terrorists seeking to harm them."
Monday's letter is the third the two senators sent to officials with the Obama administration in the last six months. The first letter was sent Aug. 12 and the second was sent Dec. 3 — only a few days after the San Bernardino terrorist attack that left left 14 dead. The senators have accused the administration of "stonewalling the request" for more information regarding the history of immigrants.
In the wake of the San Bernardino shooting, several Republican lawmakers and GOP presidential candidates called for an immediate moratorium on Syrian refugees who seek asylum in the U.S.
Cruz, a 2016 hopeful himself, has said that the U.S. should cease admitting refugees from Syria as Islamic State terrorists could enter the country and launch attacks from the homeland.
Cruz is chairman of the Subcommittee on Oversight, Agency Action, Federal Rights and Federal Courts. Sessions is chairman of the Judiciary Committee's Subcommittee on Immigration and the National Interest.