The Obama administration is assisting the government of Kenya for the construction of a large oil pipeline, according to the Wall Street Journal.
This comes after the White House's rejection of the TransCanada Keystone XL pipeline last November citing concerns over climate change. Last week, TransCanada announced a $15 billion lawsuit against the United States over the rejection.
"Kenya needs $18 billion worth of financing," U.S. Ambassador Robert Godec reportedly told Kenya's energy minister. "So one of the questions we are discussing is how we can work together with the private sector and governments to raise that sum, to find ways to make certain that this financing becomes available."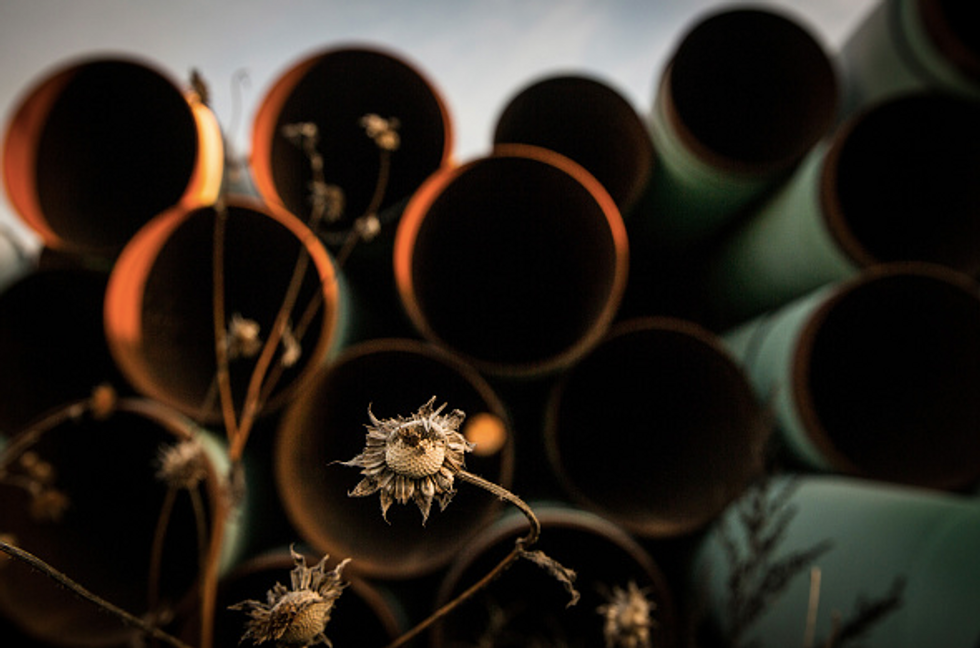 Miles of unused pipe, prepared for the proposed Keystone XL pipeline, sit in a lot on October 14, 2014 outside Gascoyne, North Dakota. (Andrew Burton/Getty Images)
The State Department did not respond to questions from TheBlaze about whether this pipeline raised the same concerns about climate change and how the U.S. would help Kenya raise the funds.
In an editorial, the Wall Street Journal asked: "Has Mr. Godec checked with Secretary of State John Kerry, or, perhaps more important, anti-oil Democratic financier Tom Steyer? Kenya and Northeast Africa could certainly use the investment and jobs that would come from the oil project. Then again, so could the United States. What's with the double standard on pipelines?"
TransCanada is seeking $15 billion in damages through international arbitration saying the "arbitrary and unjustified" decision by the Obama administration to reject the Keystone XL pipeline violates the North American Free Trade Agreement. The company claims it was treated differently than a U.S. company would have been.
"TransCanada has been unjustly deprived of the value of its multibillion-dollar investment by the U.S. administration's action," a company statement said. "Rather, the denial was a symbolic gesture based on speculation about the (false) perceptions of the international community regarding the administration's leadership on climate change."
Last week, White House spokesman Josh Earnest defended the administration's policy.
"I'll just say something you've heard me say before, which is that after extensive public outreach and consultation, the State Department decided that the Keystone XL Pipeline would not be in the interest of the United States and the President agreed that building the Keystone Pipeline would not serve the national interests of the United States," Earnest said. "And that's why we continue to be confident that the administration acted lawfully. But obviously there will be a court proceeding, and for additional questions about that I'd refer you to the Department of Justice."