A top progressive group has endorsed Vermont Sen. Bernie Sanders for president, sparking more bad news for Democratic front-runner Hillary Clinton who has seen her once-commanding lead in polls shrink.
Despite Sanders being an avowed socialist, MoveOn members contend he is more electable than Clinton in a general election because he'll inspire greater turnout.
MoveOn.org Political Action, the political arm of the liberal nonprofit, took a survey of its members, and 78.6 percent of the 340,665 MoveOn members voted for Sanders. The last time the group endorsed in a Democratic primary, it didn't work out so well for Clinton.
"MoveOn.org only endorses candidates based on votes by our members," Ilya Sheyman, executive director of MoveOn.org Political Action, said in a post on Medium. "Our only previous presidential endorsement during a Democratic primary was for Barack Obama, in early 2008. In 2004, no Democratic candidate reached the threshold for an endorsement."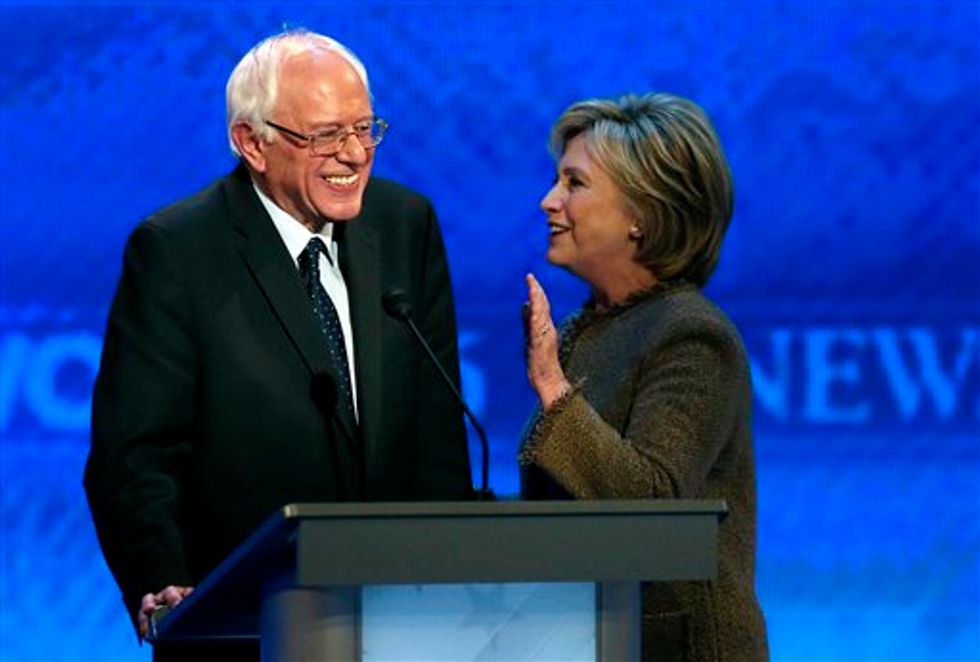 Vermont Sen. Bernie Sanders and Hillary Clinton interact at the Democratic presidential primary debate Dec. 19 in Manchester, New Hampshire. (AP/Jim Cole)
Sheyman said MoveOn members will organize to get the vote out for Sanders in Iowa and New Hampshire, the two key early contests for the Democratic nomination.
The group went on the list the top five reasons for the Sanders endorsement:
1. Bernie's lifelong commitment to standing up to corporate and 1% interests to fight for an economy where everyone has a fair shot.

2. He's standing up for justice for communities facing oppression.

3. He'll say no to permanent war.

4. Electability: This election will hinge on turnout, and Bernie is inspiring and mobilizing the communities it'll take to win.

5. Putting members in the driver's seat is what MoveOn does, and a whopping 79 percent voted to endorse Bernie.
The liberal grassroots support could pose a challenge to Clinton's supposed inevitability.
Sanders has led polls in New Hampshire for several months but surged to a 14 point lead in a Monmouth University poll, but most recently an American Research Group poll found Sanders leading Clinton by three points in Iowa, just days after the release of an NBC News/Wall Street Journal poll showing Clinton with a narrow three-point lead.
Interestingly, the organization gets its name from defending President Bill Clinton in the 1998 election, asking the public to sign a petition for the House of Representatives to "move on" and don't bother impeaching the president for perjury and obstruction of justice relating to the Monica Lewinsky scandal. Now, it seems to have decided to move on from the Clintons.
Sanders previously was endorsed by the liberal grassroots group Democracy for America, which rose up from the failed 2004 Howard Dean presidential campaign, even though Dean himself endorsed Clinton.