The father of the multi-billionaire brothers and Tea Party benefactors Charles and David Koch helped build a major oil refinery in Nazi Germany, approved by Adolf Hitler himself, a new biographical history book alleges.
Charles , left, and David Koch (AP)
The book, "Dark Money: The Hidden History of the Billionaires Behind the Rise of the Radical Right" by Jane Mayer, details the history of the Kochs and other wealthy American families. But Mayer, a staff writer for the New Yorker, predominantly focuses on the Koch brothers, weaving a narrative that, rather unfavorably, traces their rise to political influence and activism.
An excerpt from the book's official description says:
Their core beliefs — that taxes are a form of tyranny; that government oversight of business is an assault on freedom — are sincerely held. But these beliefs also advance their personal and corporate interests: Many of their companies have run afoul of federal pollution, worker safety, securities, and tax laws.
The book traces the Koch family history all the way back to its involvement in the right-wing John Birch Society and the political and professional endeavors of family patriarch, Fred C. Koch, who began building his fortune overseas in the years preceding World War II. One of his most lucrative ventures was a business partnership with William Rhodes Davis, a Nazi sympathizer who, according to Mayer, hired Koch to aid the construction of the third-largest oil refinery in Nazi Germany.
Koch Industries, the company Koch later founded and passed on to his sons Charles and David, published its own online family history timeline, which contains no mention the endeavor.
Koch Industries spokesman Ken Spain told the New York Times that the family declined Mayer's request to participate in her latest project based on her "previous reporting of the Koch family, Koch Industries or Charles's and David's political involvement." Spain added that the Kochs, who had not read Mayer's book, "expect to have deep disagreements and strong objections to her interpretation of the facts and their sourcing."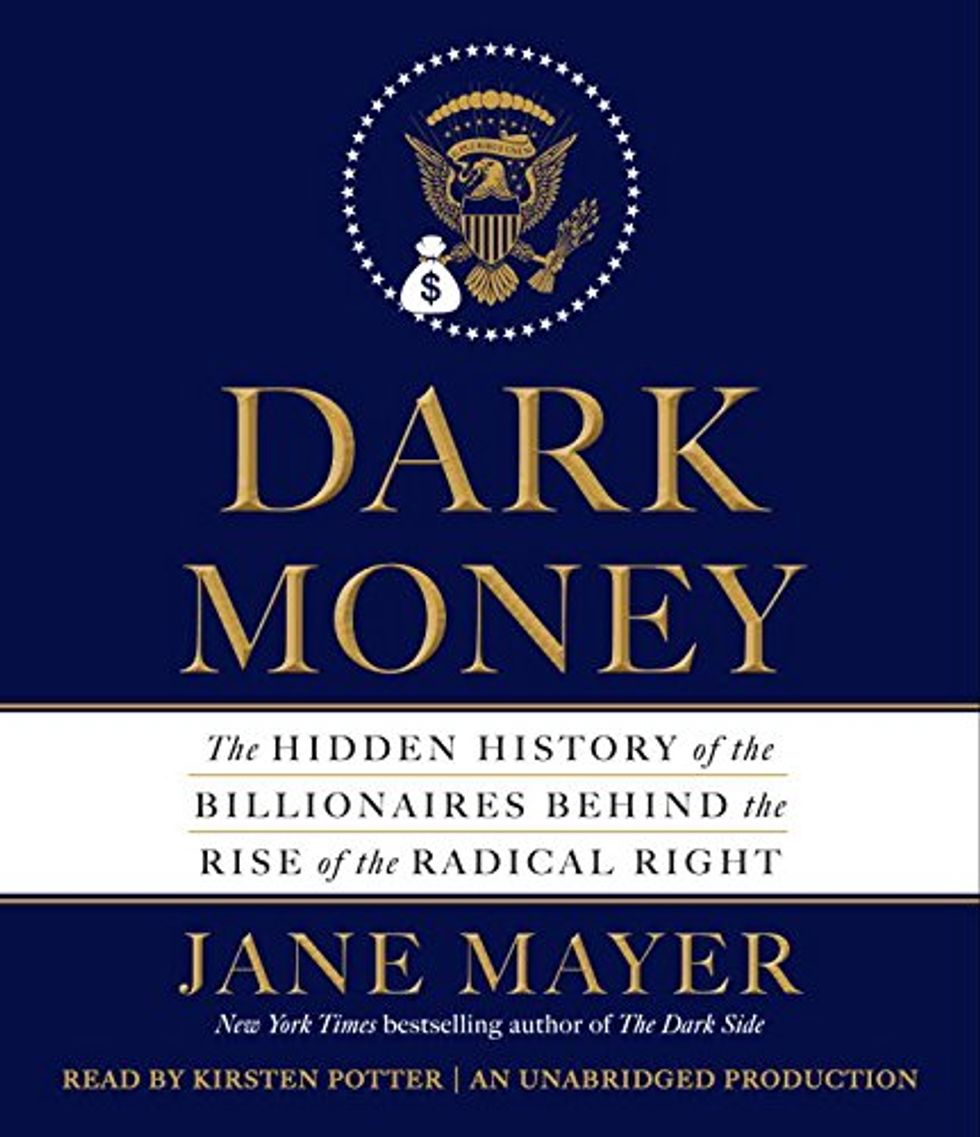 Image source: Amazon
The book certainly does not paint a flattering picture of the Kochs and other moneyed American families tied to the conservative movement. Mayer depicts the families as self-interested corporate thugs who pushed their agenda by pouring their wealth into political campaigns, scholarships, think tanks and organizations.
"When libertarian ideas proved decidedly unpopular with voters, the Koch brothers and their allies decided on another path," the description reads. "If they pooled their vast resources, they could fund an interlocking array of organizations that could work in tandem to influence and ultimately control academic institutions, think tanks, the courts, statehouses, Congress and, they hoped, the presidency."
Mayer credits Koch-funded projects for the rise of the American Tea Party political movement, as well as public initiatives to reduce popular support of the Affordable Care Act and President Obama's efforts to remedy climate change.
"Dark Money" also includes details from a private history of the Koch family commissioned by William Koch, David's twin brother, during a lengthy legal dispute with Charles and David over control of Koch Industries.
Mayer describes a confidential 1982 deposition in which William Koch confessed to participating in his brothers' alleged attempt to blackmail the fourth and eldest Koch brother, Frederick, into surrendering any ownership of the family business by threatening to tell their father that he was gay.
According to the Times, David Koch has described himself as a social liberal who supports same-sex marriage.
(H/T: New York Times)