Kentucky clerk Kim Davis — the woman who was briefly jailed for refusing to grant gay marriage licenses last year — hopes to send President Barack Obama a powerful message when she attends his State of the Union address on Tuesday night.
Davis, the clerk of Rowan County, and her attorney, Mat Staver, founder of the Liberty Counsel, hope that their presence will offer up a very public defense of "religious liberty," according to a statement released by the legal firm.
"We will be there to stand for religious freedom and to represent Judeo/Christian values," Staver said in a statement. "For seven years, people of faith have been in the cross-hairs of the Obama administration."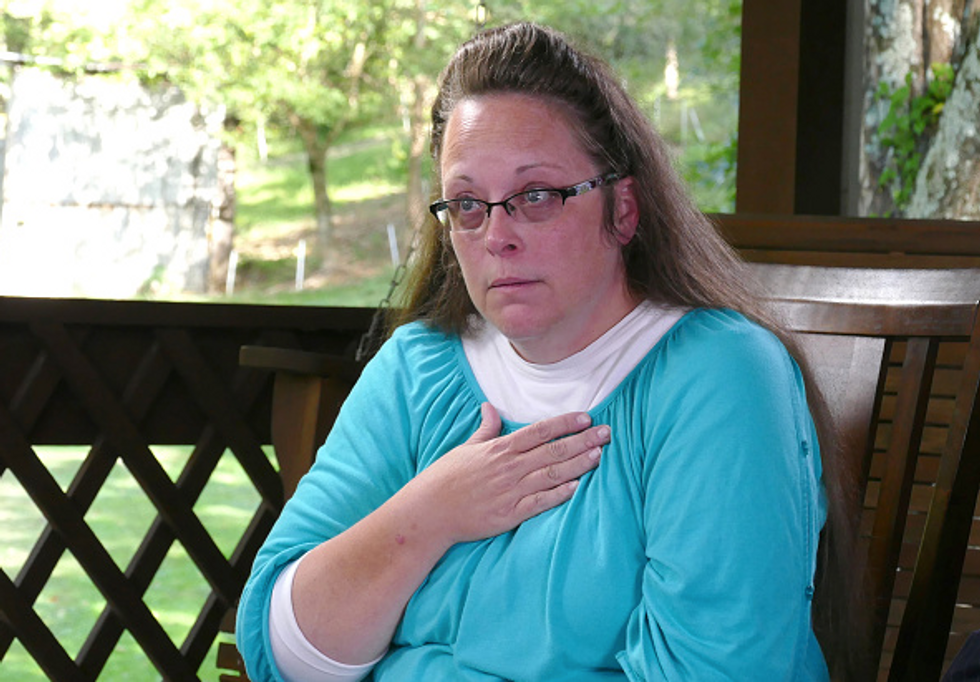 Paula Faris speaks to Kim Davis, the Kentucky court clerk who went to jail because she refused to issue gay marriage licenses. The exclusive interview will air on all ABC News programs and platforms. (Photo by Ida Mae Astute/ABC via Getty Images)
The press release also proclaims that Davis and Staver hope that their presence will be an "encouragement for people of faith to stand" in the midst of the Obama administration's purported attacks on the faithful.
"The Obama Administration has trampled religious liberty over and over, including denying applications for tax-free status to conservative organizations, requiring Christian-owned businesses and nonprofits to pay for abortion-inducing drugs, opposing the amendment to the National Defense Authorization Act that would have protected the religious rights of our military, and supporting same-sex marriage, just to name a few," the statement reads.
Staver said that he hopes that he and Davis can encourage people to vote for the candidates who reflect and embrace their values — and he also offered up a message about those who are willing to embrace God, while standing up for their values.
He noted that Davis' life was transformed after she accepted Jesus and became a Christian four and a half years ago, adding that her refusal to back down on her beliefs in the wake of gay marriage legalization last summer has had a massive impact on her life.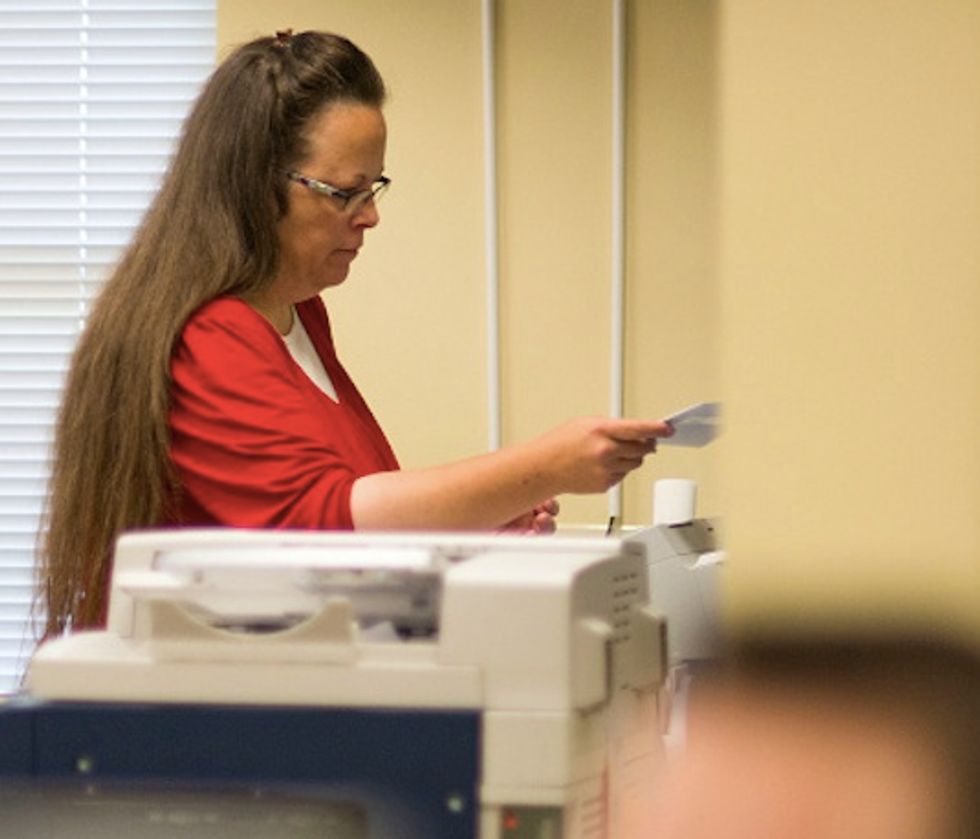 Rowan County clerk Kim Davis makes uses the copy machine in the Clerk of Courts Office on her first day back to work, after being released from jail last week, at the Rowan County Courthouse September 14, 2015 in Morehead, Kentucky. (Photo by Ty Wright/Getty Images)
"As a result of her uncompromising faith, she has gone to jail, met with the pope, stood with the Governor of Kentucky during his lopsided election win, and is now attending President Obama's final State of the Union Address," Staver said. "God can and will use anyone who is committed to him."
Davis will be in the audience along with Jim Obergefell, the plaintiff whose case helped legalize gay marriage before the Supreme Court last year; he will be Obama's guest, according to the Hill. Both Davis and Staver will be seated in the House Chamber.
As TheBlaze previously reported, the Kentucky clerk was jailed for five days last September after repeatedly refusing to abide by a judge's orders.
--
Follow the author of this story on Twitter and Facebook: