Billionaire businessman and Republican presidential front-runner Donald Trump is hitting back at South Carolina Gov. Nikki Haley, after Haley took shots at Trump during her delivery of the Republican response to President Barack Obama's State of the Union address Tuesday night.
During Haley's speech, she warned Republicans to resist "the siren call of the angriest voices." Many thought that line was aimed at Trump — including Trump himself.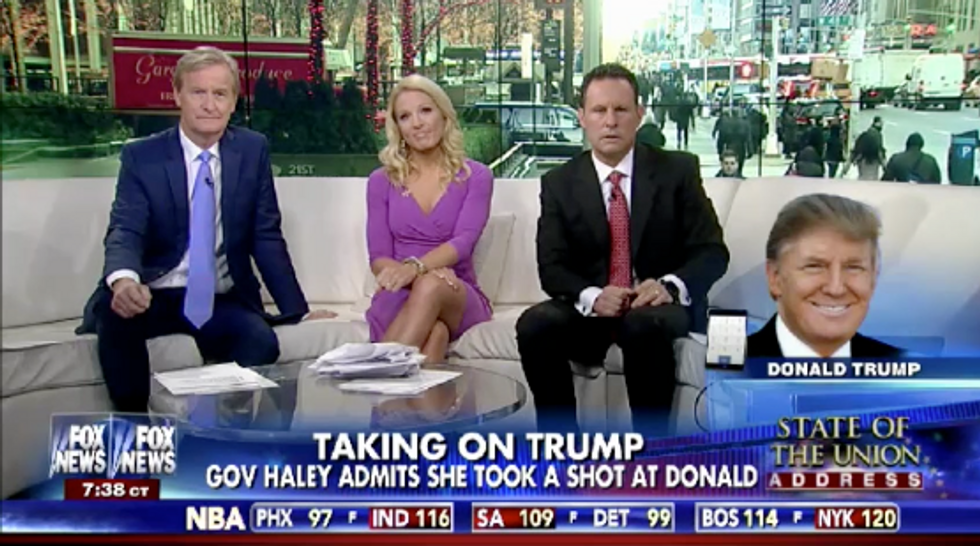 Image via Twitter @FoxandFriends
So in response, during an interview on "Fox and Friends" Wednesday morning, Trump blasted Haley for coming to him in the past and asking for campaign cash — a typical insult that Trump uses on politicians. He also criticized her position on immigration.
"No. 1, she's very weak on illegal immigration. I've known that for a long time," Trump said. "And she certainly has no trouble asking me for campaign contributions. Because over the years, she's asked me for a hell of a lot of money in campaign contributions. So it's sort of interesting to hear her."
"Perhaps if I weren't running, she'd be in my office asking me for money," the real estate mogul added. "But now that I'm running, she wants to take a weak side on immigration. I feel very strongly about illegal immigration. She doesn't."
While many were left wondering Tuesday night whether or not Haley's subtle jab was directed at Trump, she was quick to confirm Wednesday morning that, yes, Trump was an intended target.
"He was one of them, yes. He was one," Haley told Matt Lauer on NBC's "Today" show. "There's other people in the media, there's people in my state. I think we're seeing it across the country. But yes, Mr. Trump has definitely contributed to what I think is just irresponsible talk."
"If I weren't running, she'd be in my office asking for money." @realDonaldTrump on @nikkihaley's comments about him https://t.co/mWpXXHhZPW

— FOX & Friends (@foxandfriends) January 13, 2016
—
Follow the author of this story on Twitter and Facebook:
[facebook //www.facebook.com/plugins/like.php?href=