© 2023 Blaze Media LLC. All rights reserved.
In Newly Released Note, Lousiana Theater Shooter Thanks Man Accused of Charleston Church Massacre
"Thank you for the wake up call Dylann."
BATON ROUGE, La. (AP) — The gunman responsible for a deadly rampage inside a Louisiana movie theater last summer left a journal thanking the man accused of killing nine black people in a church.
In a rambling, handwritten 40-page journal released by police Wednesday, John Russell Houser described Dylann Roof as "green but good."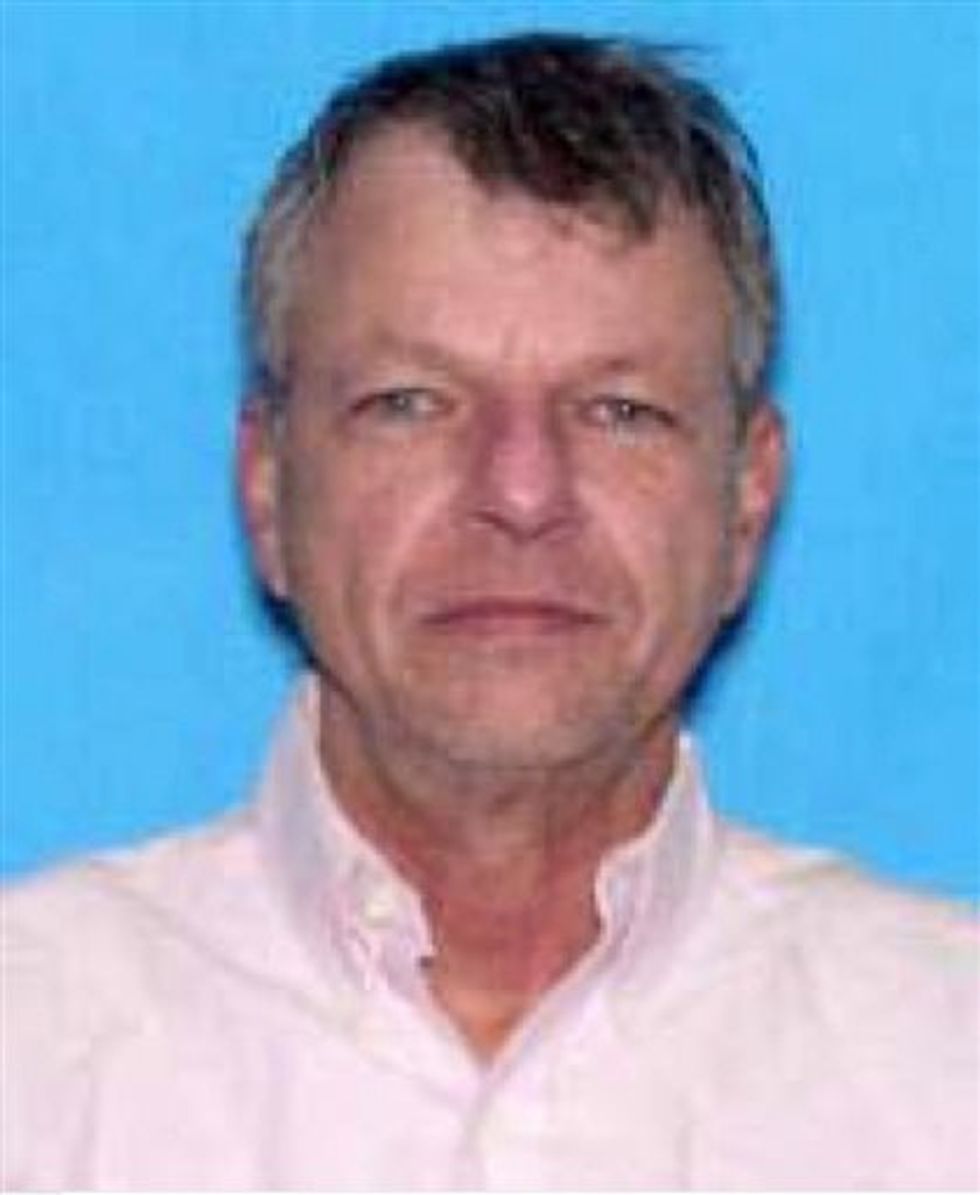 This undated photo provided by the Lafayette Police Department shows John Russell Houser, in Lafayette, La. Authorities have identified Houser as the gunman who opened fire in a movie theater on Thursday, July 23, 2015, in Lafayette. (Lafayette Police Department via AP)
"Had Dylan Roof reached political maturity he would have seen the word is not (n-word), but liberal," Houser wrote. "But thank you for the wake up call Dylann."
Houser shot and killed two people and wounded nine others before fatally shooting himself inside an auditorium at The Grand 16 theater in Lafayette last July, police have said. Jillian Johnson, a 33-year-old musician and business owner, and Mayci Breaux, a 21-year-old student, died in the shooting.
Police recovered Houser's journal from the Motel 6 room in Lafayette where he had been staying since early July. It was released Wednesday along with photos from the motel room and a nearly 600-page, partially redacted investigative report.
On the lined pages of what appears to be type of school notebook, Houser laments the state of the U.S., calling it a "filth farm," and he rants against the news media, national political figures, women, gays and blacks.
"America as a whole is now the enemy," he wrote, also warning of impending problems for the country. "I have hidden nothing and have hated the US for at least 30 years. It will soon be every man for himself. A global rearrangement comes soon."
Investigators also found wigs and disguises in the motel room, suggesting Houser had hoped to escape after the shooting. Police have said he tried to blend in with the crowd of people fleeing after the shooting but turned back after spotting officers entering the theater.
Lafayette Police Chief Jim Craft has said Houser visited the theater more than once, perhaps to determine "whether there was anything that could be a soft target for him." His only known connection to Lafayette was an uncle who died there three decades ago.
Image source: Stacy Revere/Getty Images
In the journal, Houser wrote that "soft targets are everywhere. Military police, etc. designations are not necessary."
Houser had a long history of erratic behavior in the Georgia and Alabama communities where he lived before the shooting in Lafayette, which is about 60 miles west of Baton Rouge.
In 2008, a Georgia judge ordered him detained for a mental evaluation after relatives claimed he was a danger to himself and others. But the judge said she didn't have him involuntarily committed. That could explain how he passed a federal background check in 2014, which enabled him to legally buy the .40-caliber handgun he used in the shooting from a pawn shop in Phenix City, Alabama.
Houser was a regular presence on right-wing extremist message boards, where he praised Adolf Hitler and advised people not to underestimate "the power of the lone wolf," according to the Southern Poverty Law Center, which tracks hate groups. A former neighbor said Houser flew a large Confederate flag outside his home and a Nazi swastika outside a bar he owned, and put "doomsday" fliers in his neighbors' mailboxes.
Houser became estranged from his family and lost his businesses and his Phenix City home. When he was evicted, he ruined the property by pouring concrete into the plumbing and glue into the fixtures, police said. His estranged wife, Kellie Houser, filed for divorce in March 2015, claiming he lashed out at her and warned, "I'd better watch out because he always wins."
In August, "Trainwreck" star Amy Schumer spoke tearfully of the two women killed in the shooting as she urged lawmakers to support a gun control bill sponsored by her second cousin, U.S. Sen. Charles Schumer.
Less than a month after the Lafayette shooting, police in Tennessee shot and killed a mentally ill homeless man who attacked a Nashville-area movie theater with a pellet gun, an ax and pepper spray. The Tennessee shooting occurred while jurors in Colorado were weighing a death sentence for James Holmes, who killed 12 moviegoers and wounded 70 others at a movie theater in 2012.
Want to leave a tip?
We answer to you. Help keep our content free of advertisers and big tech censorship by leaving a tip today.
more stories
Sign up for the Blaze newsletter
By signing up, you agree to our
Privacy Policy
and
Terms of Use
, and agree to receive content that may sometimes include advertisements. You may opt out at any time.