Republican Sen. Ted Cruz (Texas) is taking a lot of heat for missing Tuesday's vote on the "Audit the Fed" bill, a piece of legislation that he himself co-sponsored with fellow GOP presidential candidate Sen. Rand Paul (Ky.).
Paul was among Cruz's biggest detractors following the vote, tweeting Tuesday that he was "disappointed" his colleague "didn't show up for work," adding that voters "can't even trust Ted to show up to vote on an issue as important as Audit the Fed."
Disappointed my colleague, Ted Cruz, didn't show up for work to vote on #AuditTheFed today. pic.twitter.com/8EYa0JdNeB

— Dr. Rand Paul (@RandPaul) January 12, 2016
After getting several comments from his listeners, in hopes of understanding why Cruz missed the vote, radio host Glenn Beck said Wednesday that he sent the Texas senator an email late Tuesday night, and he got a reply.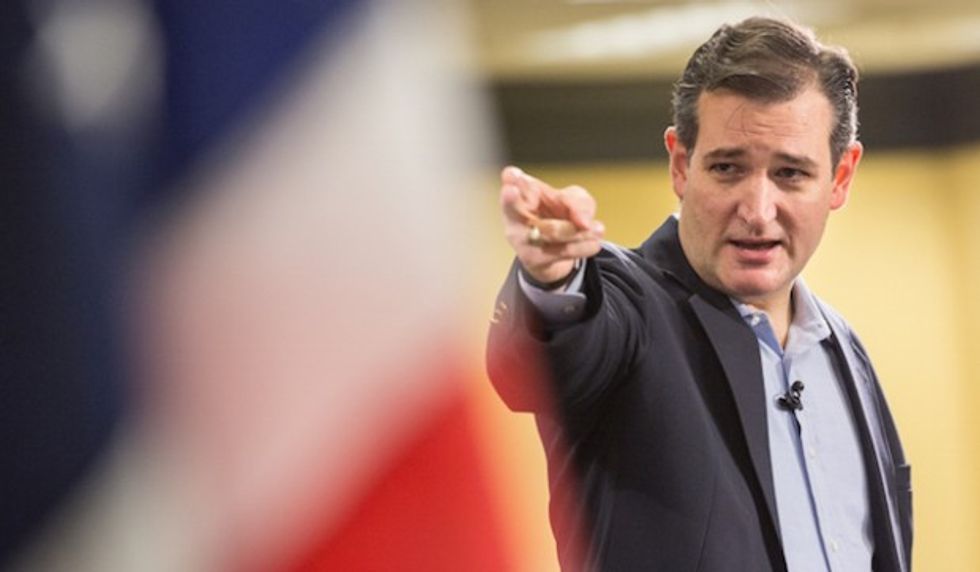 Republican presidential candidate Texas Sen. Ted Cruz gestures while addressing supporters. (Getty Images)
Cruz told Beck that he "strongly supports" the legislation, which would require an audit on the Federal Reserve, reminding the radio host that he was one of the original co-sponsors of the bill. But as for his reason behind missing the vote, Cruz simply said it wasn't going to succeed anyway.
"Unfortunately, it was clear early on that yesterday's vote wasn't going to succeed (it fell 7 votes short)," Cruz wrote in an email, which Beck later published on his Facebook profile. "And, at the same time that the vote was scheduled, I had longstanding commitments to be in New Hampshire."
Cruz went on to write that he was speaking at a Second Amendment rally in the Granite State and was delivering a State of the Union town hall, which the GOP hopeful says was to be attended by 1,500 people.
"If my vote would have made a difference in it passing, I would have cancelled my campaign events to be there," Cruz reassured Beck. "Because the vote was not going to succeed, I honored my commitments to be with the men and women of New Hampshire."
Cruz did offer one major conciliation, though, for those who are angry with him for skipping the vote: "As President, I look forward to signing Audit the Fed legislation into law."
"So anybody who wanted a comment on that, there it is from the horse's mouth," Beck said on The Glenn Beck Radio Program.
Complimentary Clip from TheBlaze TV
The full episode of The Glenn Beck Program, along with many other live-streaming shows and thousands of hours of on-demand content, is available on just about any digital device. Click here to watch every Glenn Beck episode from the past 30 days for just $1!
—
Follow the author of this story on Twitter: