Andrew Roberts, research chief for European economics and rates at the Royal Bank of Scotland, recently made international headlines when he advised clients to "sell everything" in the RBS European Rates Weekly newsletter ahead of a potential global economic crisis.
He's issued another warning about China: volatility in Chinese currency and markets could be a significant factor in the impending global financial crisis he predicts.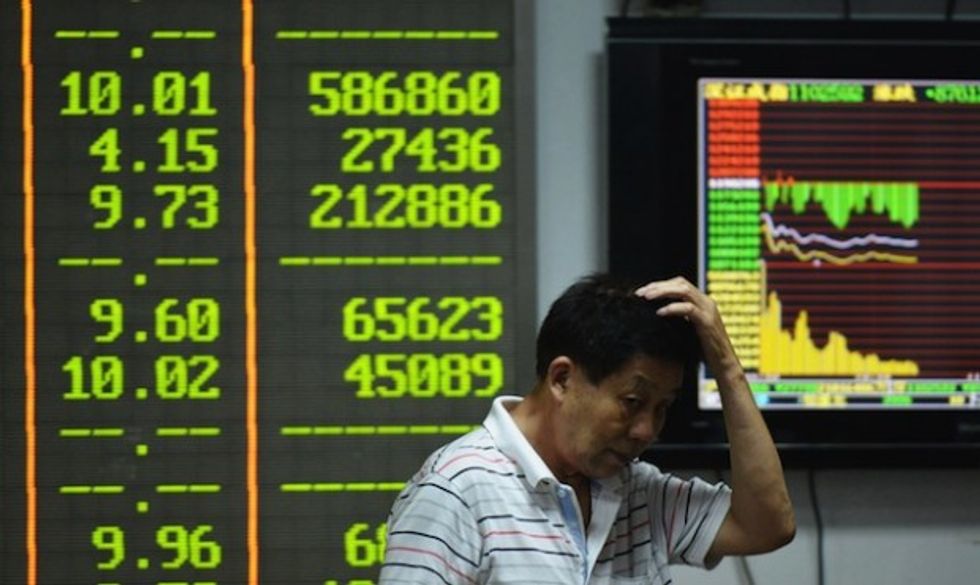 An investor gestures in front of screens showing share prices at a securities firm in Hangzhou, China, Aug. 24, 2015. (STR/AFP/Getty Images)
"As it stands, we have been very wary of China indeed, and deeply skeptical of the suspiciously large consensus that has thought the authorities can 'buy time' by their heavy intervention in cutting reserve ratio requirements (RRR), rate cuts, and easing in fiscal policy," Roberts wrote.
Roberts believes that "the game is up" for China because:
1. The baton of growth pre credit crunch was in the western world, and passed to Asia post credit crunch.

2. But this has been a debt fuelled build up.

3. We have come to the end of the willingness to build up such debt, especially as demand factors start to act against this build-up (e.g. especially demographics).

4. I showed in the Year Ahead two facts, either of which would lead a visitor from Mars to conclude, knowing nothing else, that we are in global recession:

– Negative world trade growth

– Negative world credit growth

5. This is a terrible cocktail. How consensus suggested a month ago that 2016 would be better than 2015 is a total mystery to me.

6. And there is no-one left to take up the baton of growth
Roberts warned that the world economy "looks similar to 2008."
"Trade is slowing, credit is slowing, we are in a currency war, global disinflation is turning to global deflation as China finally realizes what it needs to do (devalue soon, and sharp) and the US then, against ALL THIS countervailing pressure, then stokes the fire by hiking rates," Roberts wrote.
(H/T: Business Insider)