The future state of the union — particularly the economy — is in peril if the government continues to generously dish out student loans, according to one expert.
During his final State of the Union address Tuesday, President Barack Obama expressed the need for greater college affordability — for every American — in an effort to boost the economy. Yet according to Bill Liatsis, co-founder of the student loan refinancing company Credit IQ, the massive levels of student loan debt are debilitating not only to individuals, but also the economy.
"Without addressing these kinds of concerns, we will see the next generation struggle to pay back this debt and implicitly not be able to acquire the kinds of credit that lead to homeownership and personal stability — and simultaneously stick the government with assets that negatively affect the American economy," Liatsis told TheBlaze in an interview.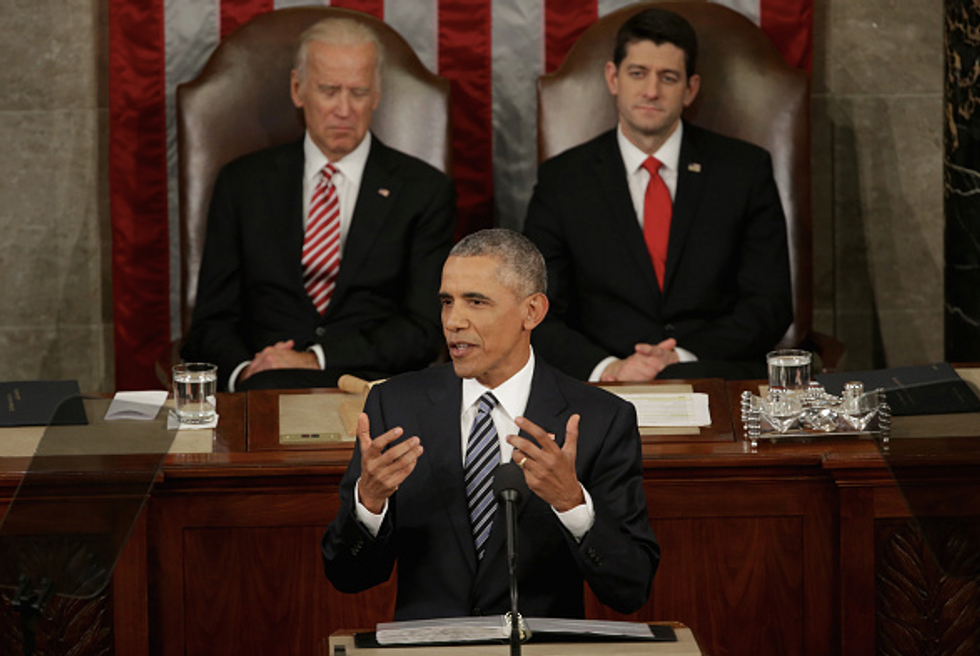 President Barack Obama delivers the State of the Union address Jan. 12. (Alex Wong/Getty Images)
The fear of the future because of student loans is a reality for Spencer Brown, a senior at Regent University in Virginia.
"The only thing looming in my mind more than graduation in May is the amount of student loan debt I've amassed over the last four years," Brown told TheBlaze. "It's not just me, though — my friends and I slogged through the last eight semesters watching our loans grow and the interest piling on."
"Not only are we all concerned about getting jobs after we graduate this spring, we're unsure if any job we manage to land will allow us to pay back our loans and live the lives we want to, rather than moving back in with mom and dad," he continued. "President Barack Obama's policies have done nothing to help my peers and me — despite his pandering to my generation."
Antonia Okafor, a graduate student at the University of Texas at Dallas, also criticized the president — particularly the comments he made regarding student loans and college affordability during his State of the Union address. Like Brown, the young woman asserted that it was Obama's policies that have "crippled" her generation over the past eight years.
"His statements don't address the fact that the very reason that tuition rates are so high is because of this big government response," Okafor said. "Public subsidies for higher education have never been as high as they are today, yet our tuition rates rise astronomically every year."
Obama touted the need to eradicate the tuition for two years of community college, but Okafor and Liatsis pointed out that just because the tuition would be $0 doesn't mean college would necessarily be free.
"[Obama] leaves out the fact that community college is never 'free' — that the burden will be on the backs of every American taxpayer, not to mention those who don't ever obtain a college degree themselves, which is most Americans," Okafor said, adding that she regretted voting for Obama in the past.
"And as a minority, I want those who want to pursue college to be able to," she continued. "Making college free for everyone doesn't help the hard-working, committed students who will actually graduate; it just makes it harder for them when they compete against someone who might have really been better suited for a technical career."
According to a recent poll from the Young America's Foundation, a conservative student organization, student loan debt was the most important issue among college students following education in general.
"American students are drowning in student loan debt and have only sunk deeper over the course of President Obama's tenure," YAF spokeswoman, Emily Jashinsky, told TheBlaze. "The percentage of students graduated with any amount of student loan debt at all has also increased under President Obama's watch."
"President Obama has failed millennials on one of their highest priorities," Jashinsky said.
Liatsis added that the private student loan refinance business has moved to a model where they invest in students who study "the right things," such as sciences, technology, math and engineering — known as STEM. According to Liatsis, a career in those fields could allow the college graduates to responsibly pay their loans back.
"These same lenders are not refinancing people who earned degrees in studies that don't make it easy to pay back these loans," he said. "In these cases, the government is taking all of the risk, and the schools are getting the reward, even though the students are the ones who are suffering."
Liatsis said there could be more solutions to forgiving student loan debt, but the types of degrees students earn do need to be addressed or there will continue to be an inefficient market that will continue to disenfranchise young people.
"The government has gotten into the business of underwriting a massive amount of student loans," Liatsis told TheBlaze. "Now it needs to start looking more closely at its investment."