Republican presidential hopeful Sen. Rand Paul (Ky.) has drawn the ire of many within conservative circles for apparently flip-flopping on GOP rival Sen. Ted Cruz's (Texas) eligibility for the presidency.
In 2013, Paul told CNN, "You won't find me questioning his eligibility." But now Paul seems to have changed his mind, claiming not to be an "expert on the 'natural born' clause in the Constitution." In addition, Paul said nobody knows how the court would rule on Cruz's eligibility should it make it the U.S. Supreme Court because it's "never been adjudicated before."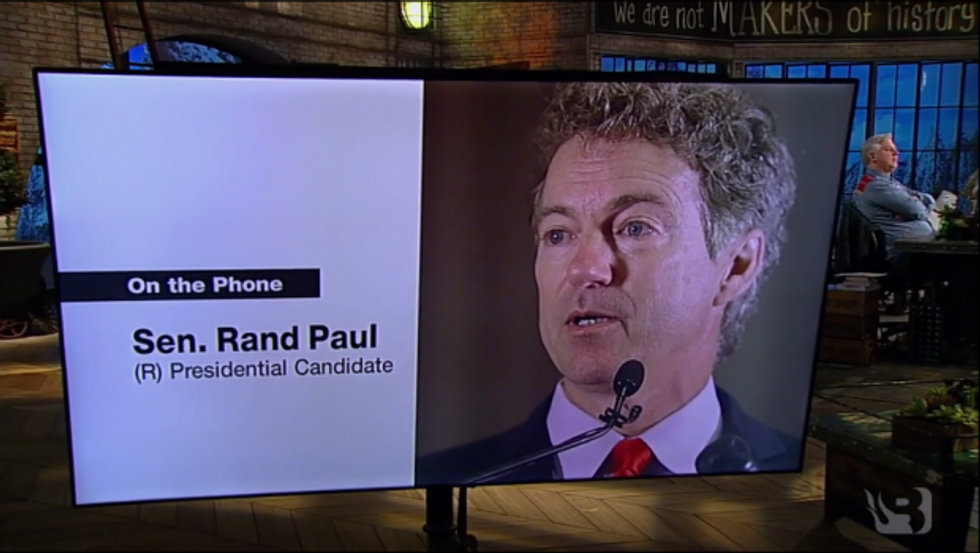 Sen. Rand Paul (Ky.) discussed Texas Sen. Ted Cruz's eligibility for the presidency Jan. 14 on The Glenn Beck Radio Show. (Image source: TheBlaze TV)
That answer, however, was not satisfactory to Glenn Beck, who pressed Paul on the issue during his eponymous radio program Thursday morning.
"If you're not a constitutional scholar, if you're not a constitutional expert, then what the hell are we voting for you for?" Beck asked the Kentucky senator.
Paul made the argument that the U.S. Constitution is "ambiguous" on the "natural born" clause, so he doesn't know what the courts would rule. But Beck continued to push.
"So let me just ask you this question: What does Rand Paul say? Not what the courts say. You know you've studied this out in your head enough," Beck said. "If you weren't running for president of the United States ... if we were just sitting in a room together, what would you say? Is he qualified to run for president or not?"
Ultimately, Paul's answer was simple: "Yes."
"If I had to say, I would say the courts in all likelihood would say 'yes,'" Paul told Beck. "But I will say that no court has ever decided what it means to be 'natural born' with regard to eligibility of the president."
Paul did clarify that he is unsure as to whether or not "natural born" means one has to be born within the borders of the United States. Paul said the question remains open as far as the courts are concerned.
Questions about Cruz's eligibility for the White House first made national headlines when Republican presidential front-runner Donald Trump — who previously said the Texas lawmaker was eligible — said Cruz's Canadian birth was a "big problem" for the Republican Party.
Complimentary Clip from TheBlaze TV The full episode of The Glenn Beck Program, along with many other live-streaming shows and thousands of hours of on-demand content, is available on just about any digital device. Click here to watch every Glenn Beck episode from the past 30 days for just $1!
—
Follow the author of this story on Twitter: