A group of Israeli police officers took a break from their duties to give a fitting memorial service to an elderly woman who died with no relatives.
Israel's Ynet reported Thursday that the Holocaust survivor from the Galilee town of Upper Nazareth died last week and had no next of kin.
Thanks to a Facebook post by a volunteer group that aids Holocaust survivors, the police officers learned that the childless woman died alone and then decided she needed a more fitting honor.
They chipped in money, said prayers at the graveside memorial and held a festive meal Jews traditionally hold after doing a "mitzvah," that is, a good deed.
One of the officers at her graveside recited the Jewish hymn known as "Kaddish" normally said by the child of the deceased. They also read from the book of Psalms, the Hebrew Jewish website Hidabroot reported.
"One of the policemen recited 'Kaddish' at the grave, and then [they] held a mitzvah meal. May her memory be a blessing," the Israel Police posted on Facebook.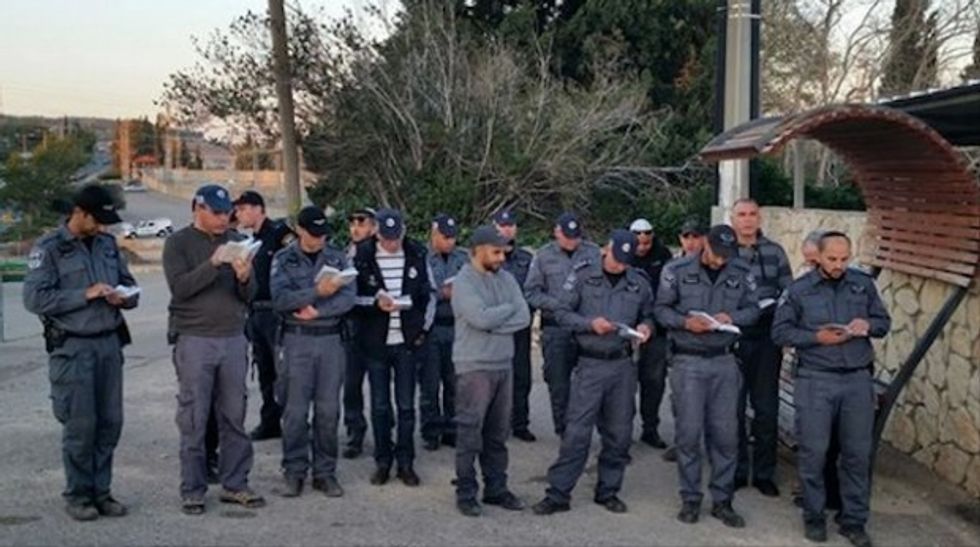 The officers said graveside prayers and read from Psalms to honor the Holocaust survivor who died with nobody to mourn her. (Image via Facebook/Israel Police)
Afterwards, those gathered sat down for a meal at chairs and tables also brought by the policemen.
A woman who attended the memorial told Ynet, "It's very moving to see that good people gathered together to pay their last respects to a Holocaust survivor, a stranger they don't know."
"In her death, she left us an unforgettable experience. Seeing all of the men in uniform standing around the grave is really unusual and heartwarming," she added.