German investigators suspect the numerous New Year's Eve sexual assaults were part of a Middle Eastern group sex-assault activity known as "taharrush," a German newspaper reported.
"Such crimes are committed by groups of young men … mostly when there are large gatherings of people, such as demonstrations. They range from sexual harassment to rape," the Federal Criminal Police Office (BKA) told the German newspaper Die Welt, according to a translation by American Thinker.
While group sexual assaults during large gatherings had previously been seen in Egypt — most famously the sexual assault of CBS News correspondent Lara Logan while covering the 2011 Tahrir Square demonstrations — Welt noted that, until now, the violent display had not yet appeared in Germany.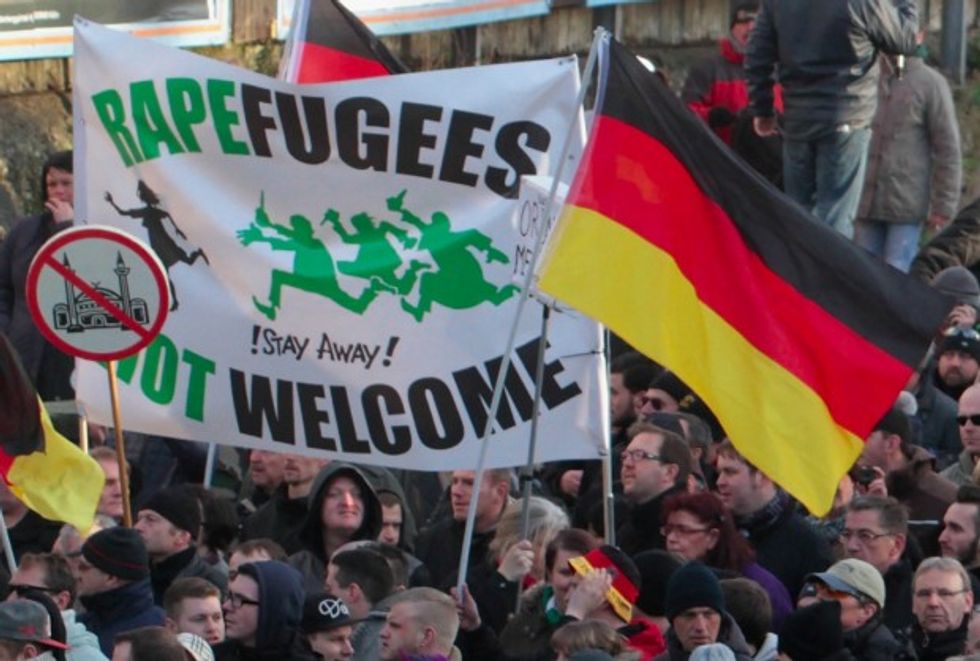 Demonstrators hold a sign "Rapefugees not welcome — !Stay away!" and a sign with a crossed out mosque as they march in Cologne, Germany, Jan. 9, 2016. (AP Photo/Juergen Schwarz)
Taharrush involves groups of men at public gatherings who surround women, then sexually assault and rob them, all under the cloak of the large crowds. Forming a ring around the woman prevents her from escaping and allows the assailants anonymity, reducing the likelihood they will be arrested.
Britain's Daily Mail reported that the phenomenon is also called "taharrush gamea," which translates to "collective harassment."
Anti-migrant politicians from the Netherlands, Geert Wilders and Machiel de Graaf, wrote a column Wednesday for the Gatestone Institute warning Europeans to familiarize themselves with the word "taharrush."
"Remember it well, because we are going to have to deal with it a lot," they wrote. "A culture that has a specific word for sexual assaults of women by groups of men is a danger to all women."
"When one imports Islam in the Netherlands, one also imports the misogynistic culture of Cairo, Damascus, Riyadh into our cities. Next to headscarves, burkas, mosques, honor killings, and terrorism, we now have taharrush," they added.
The Dutch politicians suggested the New Year's Eve sexual assaults in Cologne provided yet another reason to keep out Middle Eastern migrants.
"The solution is not that our women keep an arm's length from the male barbarians, but that the government keeps these men thousands of kilometers away from us," they wrote.
Several media outlets pointed to this disturbing archival video reportedly from Cairo as an example of taharrush. It shows a screaming woman being led by a group of men into an underpass or subway tunnel.
(Content warning: disturbing content)
German police said this week that 516 criminal complaints had been filed surrounding the New Year's Eve celebration in Cologne, 40 percent of which were related to sexual attacks. Police said the investigation was focused on North African men, the BBC reported.
More than 1 million asylum seekers arrived in Germany last year.