UPDATE: Mother Jones' Ben Dreyfuss provided the following statement to TheBlaze explaining his tweets:
It was a joke—the insane level of vitriol rising to new heights in three mere tweets—intended for people who follow both me and Vox which is why I didn't add a period at the start of the tweet or anything. I just thought it was an obviously annoying headline. But I certainly wasn't directing the tweets at the actual dude who wrote the piece. I was just making fun of Vox. Vox is a brand. It does not have a mouth or a finger with which to pull the trigger of a gun. Still, I've deleted the tweets and I'm sorry this has turned into a thing.
---
An editor for the liberal publication Mother Jones expressed outrage at a column which argued that "extreme wealth is overrated."
Ben Dreyfuss, who serves as an engagement editor at mother Jones, responded to the article published by Vox with profanity and an apparent suggestion the author kill himself with a gun.
The story, penned by Danish programmer David Heinemeier Hansson, was titled, "I became a millionaire overnight — and quickly realized that extreme wealth is overrated."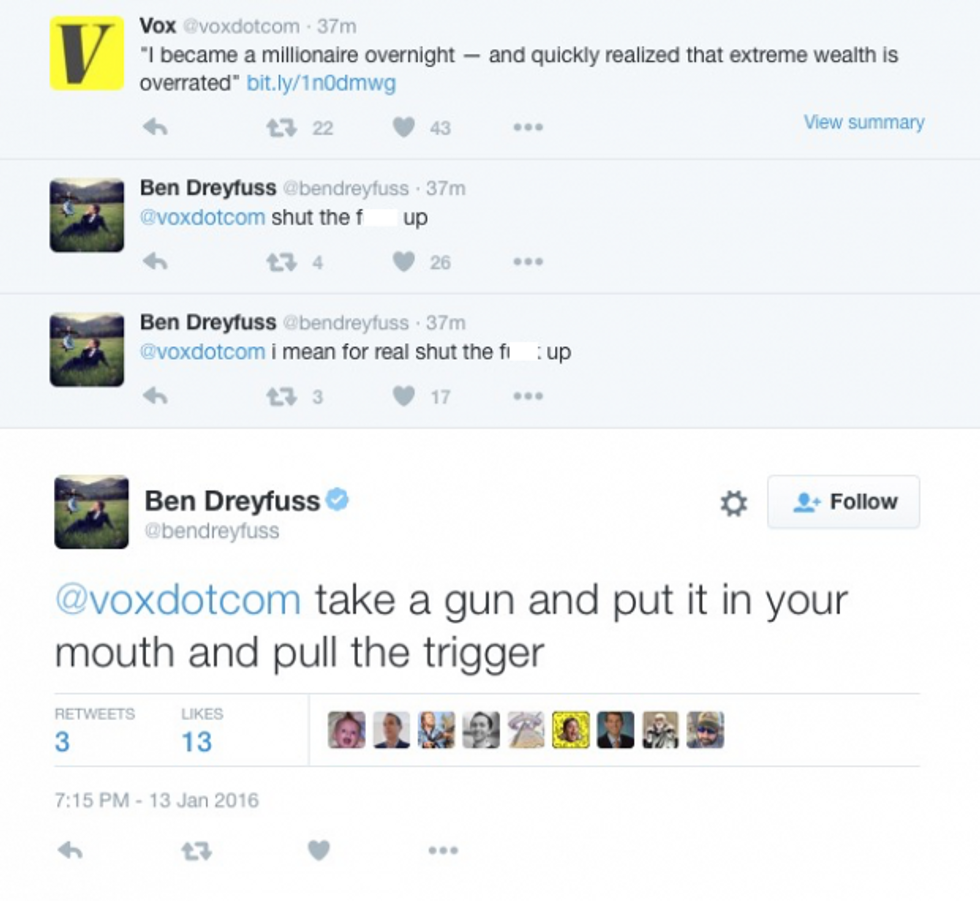 Image source: Screen grab via Twitter
"Shut the f*** up," Dreyfuss wrote on Twitter.
"I mean for real shut the f*** up," he added.
That apparently wasn't enough for Dreyfuss. The Mother Jones editor then seemingly advised the author "take a gun and put it in your mouth and pull the trigger."
An email sent to Dreyfuss requesting comment from TheBlaze was not returned Wednesday night.
The tweets may violate Twitter's abusive behavior policy. The policy explicitly states that "users may not make threats of violence or promote violence." Users are also forbidden from engaging in "targeted abuse or harassment."
Hansson responded on Twitter, writing that he was "surprised" Mother Jones tolerates such outbursts from its editors.
Surprised that @motherjones accepts this from its editors. For shame. (Reply to my Vox piece) https://t.co/6huYaIttjp

— DHH (@DHH) 1452759764.0
Dreyfuss' tweets come at an interesting time for Twitter.
The social media platform recently ignited a free speech debate when it de-verified outspoken conservative journalist Milo Yiannopoulos for alleged "violations of the Twitter Rules." While Twitter did not specify exactly which rule Yiannopoulos violated, it was widely thought a tweet he posted was interpreted by the social media platform to be against its abusive behavior policy. Yiannopoulos has maintained that the tweet was sarcastic in nature and not meant to be taken seriously.
It was not clear if Twitter would also de-verify Dreyfuss for his tweets. A spokesperson for the company was not immediately available for comment.
Yiannopoulos did not appear to be holding his breath.
Fact: @bendreyfuss will never be censured by @twitter, because he has the right politics. pic.twitter.com/Lf9AS4pYYQ

— Milo Yiannopoulos ✘ (@Nero) January 14, 2016
Editor's note: This story was updated with more information and Hansson's response. Last update: 4:49 a.m. ET.
—
Follow the author of this story on Twitter and Facebook: