Chipotle is closing all of its stores for a few hours on Feb. 8 as all staff members take part in a meeting to discuss new food safety measures and company policies following the six food poisoning outbreaks tied to the company last year.
Chipotle's woes began in October with an E. coli outbreak that started in Oregon and Washington, followed by further E. coli, norovirus, and salmonella outbreaks that struck seven other states and sickened over 50 people through November, according to the Chicago Tribune. Then in December, approximately 200 more people became sick with a norovirus in Boston as federal health officials investigated five more cases of E. coli in three other states.
In the aftermath of the food poisoning outbreaks, Chipotle's sales sank 30 percent as its stock price dropped almost 40 percent, the Chicago Tribune reported. Nine lawsuits have been filed against the company, and Chipotle has stated that it was subpoenaed by federal authorities in a criminal investigation into the norovirus outbreak, as well, prompting the company to enact changes to its existing policies and food regulation processes.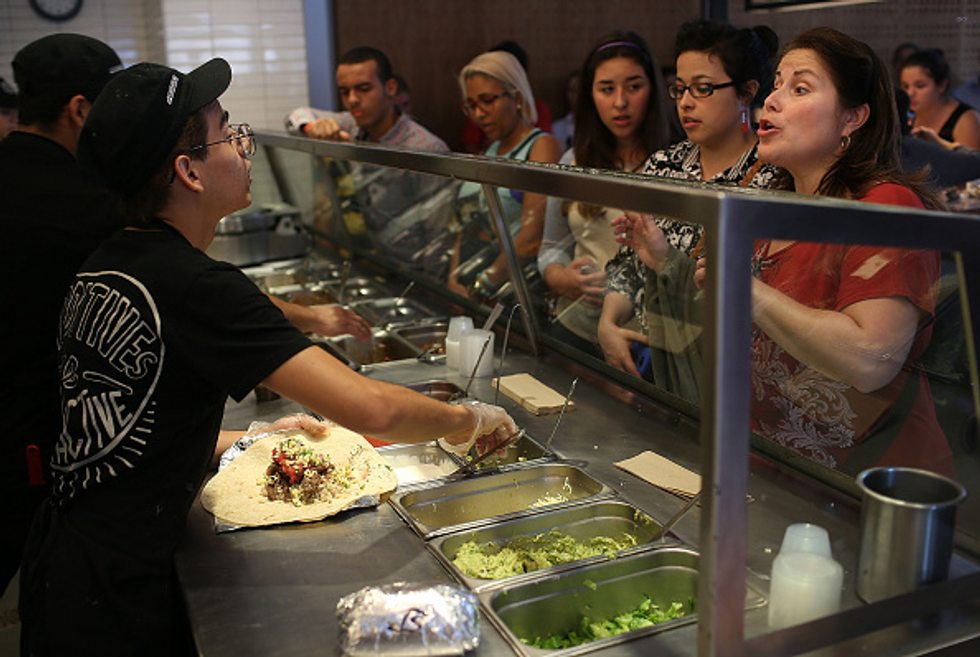 MIAMI, FL - APRIL 27: Chipotle restaurant workers fill orders for customers on the day that the company announced it will only use non-GMO ingredients in its food on April 27, 2015 in Miami, Florida. The company announced that the Denver-based chain would not use the GMO's, which is an organism whose genome has been altered via genetic engineering in the food served at Chipotle Mexican Grills. (Photo by Joe Raedle/Getty Images) 
"We want to thank our teams for all of their hard work, to discuss some of the changes we are making to enhance food safety, to talk about the restaurant's role in all of that, and to answer questions from employees," Chris Arnold, Chipotle's spokesman, said of the Feb. 8 meeting in an email to the Oregonian.
On Wednesday, Chipotle announced that the company would be launching a new marketing campaign geared towards kicking off the restaurant chain's "road to recovery," Fox News reported.
Chipotle executives announced during an investment conference in Florida on Wednesday that the chain is committed to taking the proper measures towards reducing a further risk of food poisoning to "near zero" as they begin "inviting customers back" in February through enhanced marketing efforts and direct mail invitations, according to Fox News.
Nevertheless, Chipotle has not seen the last of the barrage of lawsuits against the company. Bill Marler, a food safety lawyer in Seattle, indicated that inevitably more will be coming.
"I represent a total of 75 people, but I haven't filed all their lawsuits yet," Marler told the Oregonian.
—
Follow Kathryn Blackhurst (@kablackhurst) on Twitter