Donald Trump rented out part of an Iowa movie theater for a showing of the "13 Hours" Benghazi film on Friday, announcing that he would give out free tickets to ensure that Iowa voters would have a chance to see the film that he says could offer damaging information about Hillary Clinton's time as secretary of state.
The GOP candidate has promised to pay for Iowan viewers to watch a showing of "13 Hours: The Secret Soldiers of Benghazi" at 6 p.m. at the Carmike Cobblestone 9 Theatre in Urbandale, according to the Des Moines Register.
"Mr. Trump would like all Americans to know the truth about what happened at Benghazi," Tana Goertz, Trump's Iowa co-chair, said on Thursday, according to the Des Moines Register. "The theater is paid for. The tickets are paid for. You just have to RSVP."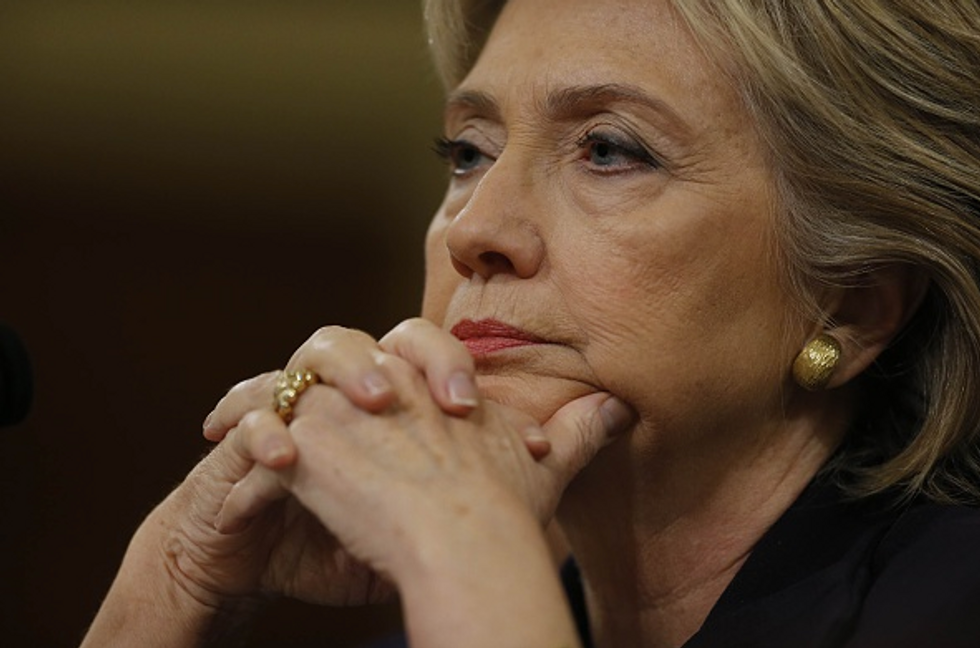 Hillary Clinton, former U.S. secretary of state and 2016 Democratic presidential candidate, waits for the start of a House Select Committee on Benghazi hearing in Washington, D.C., U.S., on Thursday, Oct. 22, 2015. (Photographer: Andrew Harrer/Bloomberg via Getty Images)
"13 Hours," which was directed by "Transformers" director Michael Bay, depicts the circumstances surrounding the deaths of four Americans in the 2012 Benghazi attack in Libya — an attack that proved to be one of the most memorable events that occurred during Clinton's time as secretary of state. The film, which was released on Friday, has been praised by Republicans and conservatives for its intense depiction of the security deficiencies and leadership lapses for which Clinton later took responsibility, according to CNN.
Although neither Clinton's nor President Barack Obama's names reportedly are mentioned in the film itself, "13 Hours" has once again raised to public awareness the issues concerning the Democratic presidential candidate's role in the Benghazi tragedy and her response to the attack during a subsequent congressional hearing. Parties involved with the film have also claimed that the movie avoids partisan politics, and instead offers "no political agenda," CNN reported.
Clinton has been unable to escape criticism for the Benghazi attack, and the GOP candidates have continued to bring up the issue during the 2016 presidential race. The latest instance occurred in the GOP debate in South Carolina on Thursday night, in which Jeb Bush said that Clinton would "continue down the path of Benghazi" and would be "a national security mess," according to the Des Moines Register.
---
Follow Kathryn Blackhurst (@kablackhurst) on Twitter