A Georgia man is behind bars after allegedly arranging to meet a 12-year-old girl for sex – but when he got to the hotel where he thought he would be meeting her, he was surprised by officers instead.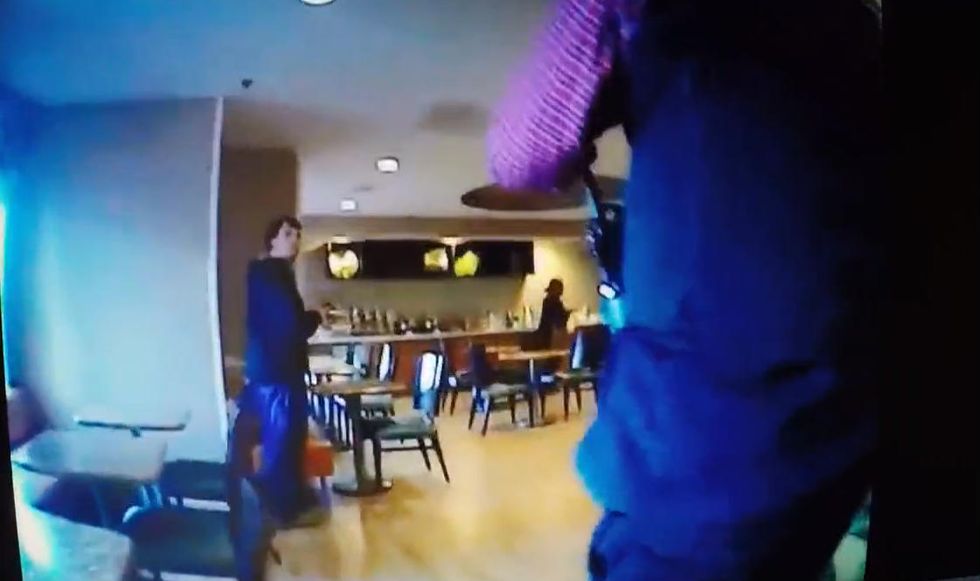 Image source: WAGA-TV
Deputies' body cam video shows Ryan Salehzadeh, 25, being surrounded by police pointing their guns in a hotel lobby. Salehzadeh had allegedly exchanged messages with the girl on the website Omegle. The girl's parent's later found out and handed her phone over to police, WAGA-TV reported.
That's when authorities began posing as the 12-year-old, who is from Florida, telling Salehzadeh that she would be on vacation in Newnan, Georgia, with her parents. The suspect later showed up in the hotel lobby where he thought she was staying, carrying a bag containing condoms, the morning after pill and Gummy Bears.
Deputies stormed the hotel lobby moments after Salehzadeh walked in.
"Hands up! Get on the ground," deputies are heard shouting in the body cam video.
Authorities said the suspect mentioned several times in his messages to them that he didn't care that the girl was only 12 years old and expressed his desire to have sex with her in the hotel room and at his home in Fayetteville, Georgia.
Salehzadeh was arrested and has been charged with aggravated child molestation, criminal attempt to commit statutory rape and enticing a child for indecent purposes. He is being held without bond at the Coweta County Jail in Cowetta County, Georgia.
(H/T: WAGA-TV)